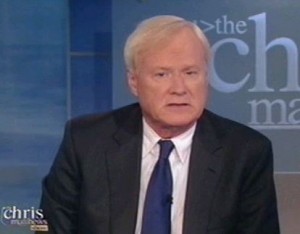 The current reigning champ of the GOP presidential field is Governor Rick Perry, the most recent candidate to be profiled in TIME Magazine. Chris Matthews and his panel wondered if a candidate with Perry's style and particular brand of conservatism would be able to win him the presidential nomination. Matthews even compared Perry to conservative icon Ronald Reagan, suggesting a starker difference between the two than most would think.
TIME's Michael Duffy admitted that he expected Perry to back away from on his more controversial remarks about Social Security being a "Ponzi scheme," but instead he doubled down on his remarks. NBC Capitol Hill correspondent Kelly O'Donnell described Perry as someone who "is fearless about making mistakes" and sticks to his guns whenever he can.
Matthews framed the Rick Perry-Mitt Romney two-man race as a political calculation Republicans would have to make between someone who would fit in perfectly in a tea party rally and someone with a good chance of winning the presidency. Major Garrett praised Perry's "real-time political instincts" for recognizing the eventual political importance of the tea party before most other politicians did, and also thought he represented the kind of candidate Democrats use to comfort themselves with (which Garrett thought would be a faulty assumption to make).
Katty Kay, of the BBC, thought Perry was walking a delicate line between moderate Republicans and the tea party, and that the most important quality he can have right now is his confidence and steadfast decision-making. In fact, Perry is so confident in the campaign, O'Donnell thought, that he's already acting as if he were the presumptive nominee.
Duffy suggested Romney supporters were more "rational" in their opposition to Obama than Perry's "emotional" support. And, of course, the panelists also address the Reagan connection (or lack thereof). Katty Kay argued that Perry was more id-driven than Reagan, and actually even suggested his style more closely resembles Sarah Palin. Duffy also pointed out the political climate has soured over the past few years, and partisanship is much worse today that it was in Reagan's time. Perry's religious bona fides may come in handy, but as Duffy said, while voters want their candidates to be religiously affiliated, they don't want them to talk about it too much.
Watch the video below, courtesy of NBC:
Have a tip we should know? tips@mediaite.com
Josh Feldman - Senior Editor