Giuliani Accuses Obama Admin. Of Covering Up Libya Attacks: 'This Is A Major Scandal'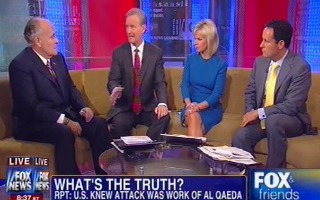 Former New York City Mayor Rudy Giuliani accused the administration of President Barack Obama of covering up the events relating to the attack on a U.S. consulate in Libya which resulted in the death of four Americans, including Ambassador Chris Stevens. Giuliani called the administration's action a "scandal" and said the U.S. media is a "disgrace" for not reporting on it.

RELATED: Media Silent After Intelligence Sources Claim Obama Admin. Misrepresented Facts About Libya Attack
Steve Doocy asked Giuliani for his opinion on reports that Obama administration officials knew that the attack in Libya was an Al Qaeda operation within 24 hours of the event. Giuliani replied that he believed it was clear the administration was attempting a cover up.
"I think there's no question that the administration was covering up from day one," said Giuliani. He called their official explanations immediately following the attack a "phony" story to try to block the political criticism that Obama "took his eye off the ball."
"The president, in his haste to make himself a tremendous hero over getting bin Laden – he deserves credit – but, my god, he wanted to make himself a super hero over it," Giuliani added.
"He is supposed to be an expert in foreign policy, according to the polls," said Doocy.
"The expert is showing us failure all over the world," Giuliani replied. "What you watch on television every night now is the Obama policy – which started in Cairo when he made his big speech – absolutely falling apart."
He said that the administration could not afford to be compared with Jimmy Carter, the last president to oversee the death of a foreign ambassador, this close to the election.
Giuliani chided the president for being "euphemistic" about Islamic extremist terrorism for years.
"This is a major scandal," Giuliani said. "The only reason why it's not played as a major scandal is president has about three quarters of the media in the tank. It's a disgrace."
He lambasted the U.S. media and U.N. Ambassador Susan Rice for saying that the attacks were spontaneous and incited by an anti-Islamic YouTube video.
"This is a cover up in the middle of a campaign, but let's forget the campaign, this is a cover up relating to the security of the United States of America," said Giuliani. He asked why there was no outrage over President Obama having abdicated his responsibilities as commander-in-chief in favor of campaigning while U.S. interests are threatened overseas.
Watch the segment below via Fox News Channel:
> >Follow Noah Rothman (@Noah_C_Rothman) on Twitter
Have a tip we should know? tips@mediaite.com