Giuliani: #BlackLivesMatter is 'Inherently Racist'; Black Children Need to Learn Respect for Police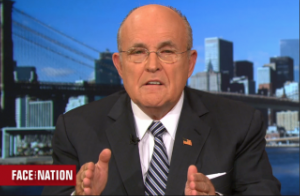 Former New York City Mayor Rudy Giuliani gave an interview on Face the Nation today, where he said that the Black Lives Matter movement is "inherently racist" and should be more focused on criminal activity between African Americans.
The former mayor is a prominent critic of the racial justice activist movement, and he's taken the events of this past week to again accuse their rhetoric of endangering police officers. Giuliani's comments come as America continues to observe the fallout of last week's attack on police officers in Texas, as well as the discussions of racism and police brutality that resulted from the deaths of Alton Sterling and Philando Castile.
While Giuliani told John Dickeron that he agrees with Newt Gingrich's acknowledgement of racial disparities in American policing, he approximated that Black people have "a 99% chance" of dying from crimes against each other compared to a 1% chance of dying at the hands of law enforcement.

"If you want to deal with this on the black side, you've got to teach your children to be respectful to the police, and you've got to teach your children that the real danger to them is not the police."
Eventually, Giuliani asserted that the phrase "Black Lives Matter" is "inherently racist" and "anti-American." Dickerson tried to counter Giuliani's assertion that the movement constantly advocates harming police officers, but Giuliani pressed on with instances where the movement appeared to blatantly antagonize law enforcement.
[Image via screengrab]
— —
>> Follow Ken Meyer (@KenMeyer91) on Twitter
Have a tip we should know? tips@mediaite.com