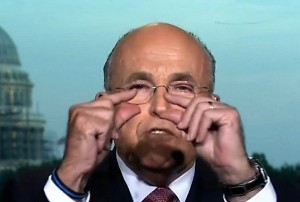 Former New York City Mayor and current Donald Trump surrogate Rudy Giuliani was raising questions about Hillary Clinton's health and mental acuity Thursday evening, but may have succeeded only in raising questions about his own. As he told Hardball host Chris Matthews that "I don't know what's wrong with" Secretary Clinton while describing recent superficial indications that he says concern him,Giuliani himself suffered a couple of lapses that might otherwise go unnoticed.
For example, Giuliani tried to reference the FBI report that was released on Labor Day weekend, but misidentified the holiday and the agency that Hillary Clinton worked for in 2012 (emphasis mine):
And then I see in the FBI 302 which was put out on Memorial Day weekend, in print about this big where you needed to use a magnifying glass to read it, but I read it twice, I saw something that really concerned me. It said she can't remember her exit interview from the CIA because she had no memory for a period of time after she had a concussion.
Hillary Clinton, of course, never worked for the CIA (as far as we know), and the report was released on Labor Day weekend, and it didn't say what Giuliani says it said, even though he read it twice. Also of great concern is Giuliani's need for a "magnifying glass" when the report was released in rather large, clear print.
Later in the interview, Giuliani was praising Trump's plan for military spending when he confused his current candidate with the late President Ronald Reagan:
Ronald Reagan is going to go into negotiations with Putin from a position of strength.
Dutch was good, Rudy, but not that good.
A fair reading of Rudy's difficulties, even his past ones, might be that these are somewhat normal lapses that might gain perceived significance under a public microscope, but who can say for sure? Maybe people ought to just Google up some videos.
Have a tip we should know? tips@mediaite.com