Giuliani Frustrates MSNBC's Mika Brzezinski With Claim That Response To Hurricane Sandy As Bad As Katrina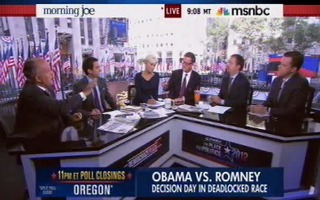 Former New York City Mayor Rudy Giuliani sat down for a special edition of Morning Joe on MSNBC on Tuesday where he attacked FEMA and the government of New York City for what has been, in his estimation, a poor response to Hurricane Sandy. After comparing the response by FEMA to the agency's famously wanting response to Hurricane Katrina, co-host Mika Brzezinski took exception. She asked if he would walk back his criticism, to which Giuliani sharply replied that he would not.

Giuliani noted that Hurricane Sandy may have helped President Barack Obama politically for a handful of days, but it could end up as a liability as public perception of the response has soured.
Giuliani listed the numerous ways in which he felt the disaster response to Hurricane Sandy in New York City was wanting and, in his opinion, had not been properly readied prior to the storm.
"This is as bad a backup effort as you had for Katrina," Giuliani said.
"No, Mr. Mayor, please," Brzezinski interjected. "You want to walk that back."
"I do not want to walk it back," said Giuliani. "No water in New York for five days? You can't get an airplane from California to New York with the water on it. Unless the FEMA director has his head up his you know what."
Brzezinski said that the parallel to Katrina was not appropriate. "That's why it's hard for people to believe what you say when you say things like that," Brzezinski said.
Giuliani concluded by saying that FEMA has been outwardly proud of their response to Sandy and they should be learning from their failures rather than touting debatable successes. "This should be an F- effort," Giuliani said.
Watch the clip below via MSNBC:
> >Follow Noah Rothman (@Noah_C_Rothman) on Twitter
Have a tip we should know? tips@mediaite.com