Giuliani: If Obama Had Reacted Differently To Attack That Killed Him, Libya Amb. May Be Alive Today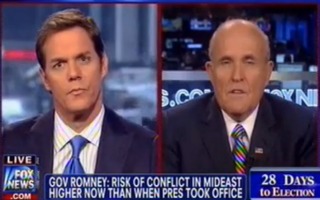 Former New York City Mayor Rudy Giuliani took criticizing President Barack Obama's administration's response to the attacks in Libya to a new and ludicrous level on Tuesday. America's Mayor took to Fox News Channel to take issue with the president's response to the 9/11/12 attacks, which he said were based in political and not security-related concerns. However, Giuliani delved into the absurd when he suggested that those Americans who lost their lives in the attacks may be alive today if the response from the Obama administration had been different.

Speaking to Fox News Channel's Bill Hemmer on Tuesday, Giuliani got his timelines crossed as he criticized the Obama administration's pre and post-attack responses.
The reality is, when you close your eyes to what's going on you get attacked without recognizing you're getting attacked. We should never have been attacked in Libya. The warnings were manifold. Instead of increasing security we decreased security. It is quite possible that the ambassador and the other three Americans didn't have to die if there were a competent reaction that wasn't controlled by political spin as opposed to done very, very realistically.
It is logical that Giuliani was referring to the flood of information uncovered in recent weeks which suggests the State Department and the White House were complacent in the face of credible threats to American diplomatic staff in North Africa. That would, at least, make some sense.
However, Giuliani phrased his critique in a way that suggested the Obama administration could somehow, retroactively save the lives of Ambassador Chris Stevens and his three colleagues. Presidential powers are myriad and ever-growing, but they probably do not extend to resurrection.
Watch the clip below via Fox News Channel:
h/t Think Progress
> >Follow Noah Rothman (@Noah_C_Rothman) on Twitter
Have a tip we should know? tips@mediaite.com