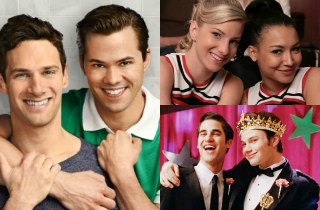 This year's edition of GLAAD's "Where We Are on TV" annual report finds that the number of regular lesbian, gay, bisexual, and transgender (LGBT) characters on broadcast networks has risen to the highest level ever recorded.
For the 2012-13 primetime season, ABC has reportedly overtaken Fox as the broadcast network with the most LGBT characters. NBC, the CW, and CBS all experienced a growth in LGBT characters as well.
LGBT characters now account for 4.4% of series regulars in current scripted broadcast television programming. This marks an upward trend from 2.9% in 2011 and 1.1% in 2007. Out of 701 series regular characters, 31 are LGBT in addition to 19 LGBT recurring characters.
GLAAD also reports that the number of regular LGBT characters on cable scripted programming has experienced a bump. Showtime is now home to the most LGBT characters on cable with a total of 12 — seven of which are series regulars.
To many of us, this marks progress in cultural tolerance for alternative lifestyles. But surely, these figures are frightening to "culture war" conservatives like Glenn Beck who frequently bashes Fox's Glee for it being a "horrifying" liberal Trojan horse of gayness.
Oh, and speaking of Glee: This year, among the broadcast networks, the musical show will feature the largest number of regular or recurring LGBT characters with a total of six. The show also features not one, but two openly-gay couples.
"The horror!" Beck, et al, will likely say.
Read the full report (with some fascinating infographics) below, via GLAAD: