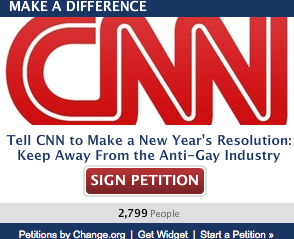 The Gay and Lesbian Alliance Against Defamation (GLAAD) has created a petition in an effort to convince CNN to stop inviting what the organization deems "anti-gay" guests onto the network. In fact, GLAAD aims to fight against CNN's inclusion of the "anti-gay industry" as a whole when it covers issues and debates relevant to gay and civil rights issues.

For years, CNN has insisted on including the voices of the anti-gay industry whenever a topic that involves the LGBT community has come up. It's time to speak up and tell CNN that this is unacceptable.
As an example, GLAAD cites the instance when John King USA ran a segment on on the then-pending repeal of "Don't Ask, Don't Tell," featuring Peter Sprigg from Family Research Council, whose only qualification, as far as GLAAD could see, was that he feels homosexuality should be outlawed.
As GLAAD views it, these guests are brought on due to CNN's desire to provide a balanced discussion on gay-related issues, only "the network doesn't book these people because they provide any actual expertise or experience on issues that impact LGBT people; their only qualification is that they are anti-gay."
As to what would make someone qualified to present counterpoints in discussion concerning the gay community, CNN lists "educators, scholars, consultants, psychologists, military historians, medical professionals."
The full petition, via GLAAD's website, is quoted below:
Dear CNN: use experts, not the anti-gay industry.

Dear CNN:

With the new year upon us, I am asking you to make a resolution to keep anti-gay groups off of your airwaves.

When a story impacts the LGBT community, think about how you would treat the story if it impacted any other group of people. If you were running a story about education, would you seek out the opinion of someone who hates teachers? If you were running a story about agriculture, would you invite a guest who believes farming is a sin? Of course not, yet the anti-gay point of view is one you seek out regularly.

These groups, whose only qualification is their animosity towards LGBT equality, bring absolutely nothing of value to your airwaves – and by inviting them on, you're only lending them your credibility and elevating their messages. If you are seeking a second opinion on issues of LGBT rights, I ask you to stay away from members of the anti-gay industry, and instead consult actual experts. No matter what the exact topic, you should always be able to find a professional who can offer something beyond animus. Educators, scholars, consultants, psychologists, military historians, medical professionals – no matter what field your story is related to, you can always find an actual expert who can bring something of real value to these conversations.

In this New Year, I am asking you to please stop giving these anti-gay activists a platform for their false and dangerous messages, and instead give your audience the information they need.

Sincerely,

[Your name]
Have a tip we should know? tips@mediaite.com