Glenn Beck And Puppet George Soros Stage Intervention For Gambling Addict Bill O'Reilly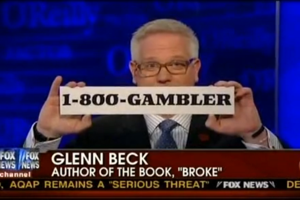 Bill O'Reilly bet John Stossel some money that Proposition 19 in California wouldn't pass. He also made an election bet with Laura Ingraham. And he's got some money on several other races, and bet Glenn Beck money to dress like Joy Behar on the Bold/Fresh Tour. It's a good thing he has friends like Beck to step in when things get out of hand.
After chatting a bit about last Tuesday's elections (Beck's takeaway of the night was that "people make a difference"), Beck pointed out the results of the Prop 19 vote and the money O'Reilly won on that as well as some other races. Then he directed O'Reilly to 1-800-Gambler, and also kindly requested payment of $5000 for winning a bet with O'Reilly himself. "That is a con," O'Reilly replied, as the original bet was for Beck to dress like Joy Behar. Instead, Beck appeared on the Bold/Fresh tour in a king's costume to represent the "progressive Democrat," or something. O'Reilly called it a "Burger King thing" and a "dress," much to Beck's chagrin.
Then, if it's possible, the conversation became even more absurd, as Beck brought out his puppet friend, "George Soros." Hungarian puppet George Soros, who Beck insists is not alone and has "puppet friends," all of which will make an appearance in Beck's new special, "The Puppetmaster," to air next week. Beck promised the show would do much to shine the light on funding on the progressive left while intermittently interrupting himself to talk to Puppet Soros.
Beck and O'Reilly's election week chat via Fox News below:

Have a tip we should know? tips@mediaite.com