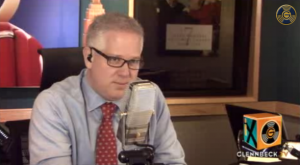 On his radio show Tuesday, Glenn Beck made what he has now called "one of the worst analogies of all time" when he compared Reform Judaism to Islamic Extremism. The reaction was swift, with the Anti-Defamation League saying the comments belied Beck's "bigoted ignorance." Today, in a lengthy comment that opened his show, Beck said he agreed and that "ignorant" is a "perfect description for what [he] said."
Beck made the apology at the top of his show as he said it's always important to lead with your mistakes so as to "guard your credibility." He explained that he was speaking off of some information that he had heard (or misheard) from someone the day before, however the onus was entirely on him. "I've always told you to do your own homework," he said. "And, in this case, I didn't do enough homework." He claimed that, even as the original words were coming out his mouth, he knew something was wrong.
UPDATE: The group Jewish Funds for Justice have responded to Beck's apology. They were the organization that Beck was originally speaking about when he made the controversial comments. He was criticizing their ad that was published in the Wall Street Journal. It called for Beck to receive a sanction for past comments.
Here is their full response:
"Statement from Jewish Funds for Justice in response to Glenn Beck's radio apology this morning:

Glenn Beck's apology for comparing Reform Judaism to "Radicalized Islam" is welcome but incomplete. While we are heartened to hear him recognize his ignorance, he still has not acknowledged that the letter signed by 400 rabbis and organized by Jewish Funds for Justice represented a cross-section of denominations, including Orthodox, Conservative, Reconstructionist, and Renewal rabbis.

Glenn Beck's characterization of Reform Judaism is in keeping with his longstanding hostility toward people who see their faith linked to pursuing the common good. This was made clear in March of 2010, when Mr. Beck advised people to leave their churches if their clergy spoke about social justice.

Mr. Beck's demonization of his political opponents is a regular feature of his radio and television shows. This problem is systemic. His remarks about Reform Jews are only the most recent example of the attacks that occur daily on Beck's show.

We reiterate our call for Rupert Murdoch to end Mr. Beck's tenure at Fox News and for Salem Communications to commit not to add his syndicated radio show to their New York stations. Anything short of this reflects an unwillingness to take seriously the harm Mr. Beck causes to many in our community and beyond."
Watch the clip from GlennBeck.com below:
Have a tip we should know? tips@mediaite.com