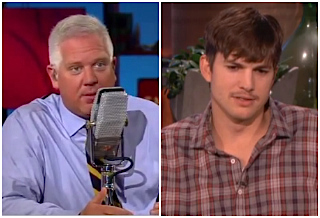 Ashton Kutcher became an unexpected icon on the right, winning the admiration of, among others, Sarah Palin, when he made a heartfelt speech about hard work and perseverance at this year's Teen Choice Awards. Glenn Beck found further reason to praise the actor on his radio show Friday, after Kutcher reiterated his point to Ellen DeGeneres.
"There's an entitlement that is starting to emerge that I think is unhealthy for people and unhealthy for our country," Kutcher said in the interview earlier this week. On people he knows who think it's "below" them to get a job somewhere like Starbucks, Kutcher said, "The only thing that can be below you is to not have a job."
DeGeneres called the speech "fantastic" and agreed that people "don't want to work as hard anymore" as the previous generation did when they started out.
"Let's start with yet another amazing talk from Ashton Kutcher, a guy who I can't believe is not tea party member," Beck said at the top of his show, "because he says absolutely everything that hard working, God-fearing Americans stand for. I don't know who he thinks the tea party is, I don't know who he thinks we are, but I gotta break it to ya, Ashton: We're you. You're us."
"Who do you think you are?" Beck asked Kutcher. "I don't understand, and I really want to have a dialogue with you because if you can still be on your side and make sense and all your friends are clapping, then we need to talk because we're missing something here." He added, "If your side believes all this, that's our biggest point! That's our biggest point! All of the stuff that's separating us is ridiculous."
Beck ended the segment by teasing the possibility of hosting Kutcher on his show, something that would no doubt make for some interesting radio.
Watch video below, via TheBlaze TV:
And watch the extended clip of Kutcher's interview on Ellen:
[photo via screengrab]
— —
>> Follow Matt Wilstein (@TheMattWilstein) on Twitter
Have a tip we should know? tips@mediaite.com