Glenn Beck Confronts Bachmann Over NSA Defense: 'I Was Offended' By What You Said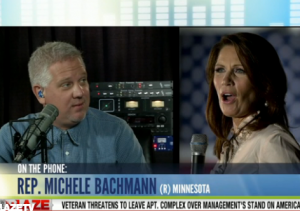 Last week, Glenn Beck declared that outgoing Republican congresswoman Michele Bachmann is "almost dead to me" over her steadfast support of the National Security Agency. Beck confronted Bachmann on his radio show today so she could explain her position, insisting a number of times that she has so far seen zero evidence to back up anything Edward Snowden or Glenn Greenwald has said. Beck sighed and told Bachmann he was "offended" by the remarks she made in defense of the NSA last week.
RELATED: Glenn Beck Excoriates Bachmann: 'Shame On You,' 'Really, Really, Really Almost Dead To Me'
Bachmann emerged last week as one of the most vocal Republican opponents of a bill proposed by her GOP colleague Justin Amash to limit the NSA's metadata collection to people only under criminal investigation. Beck told Bachmann today he has a lot of respect for her, and doesn't "think you're an enemy of the republic or anything like that," but asked, "What happened to my good friend Michele here?"
Beck wanted to know how Bachmann, who has certainly been one of the most vocal elected conservatives attacking Obama administration lies, could believe the NSA's assurances about the surveillance program after they've lied "over and over and over." Bachmann admitted, "I want to know the truth," but maintained she has seen no evidence to date that the government is "recording and listening to phone calls, or reading or keeping on file e-mails of U.S. citizens." When Beck brought up a news report on how the secret FISA court is operating under a secret interpretation of the law, Bachmann replied, "That I don't know, and that I promise you I will look at."
Beck still couldn't understand how Bachmann could "have this optimism that they're not going to lie to you," making it clear the issue isn't just President Obama but any administration entrusted with that kind of power. Bachmann said she has concernes over civil liberties as well, but insisted "there is not one instance of abuse" and told Beck people shouldn't conflate this scandal with other Obama administration abuses. When Bachmann assured Beck that the NSA's new storage facility is only collecting foreign intelligence data, he stated, "I don't believe it."
Beck rebutted a number of other points that Bachmann made before addressing her comments last week about "false narratives" in the NSA debate, telling her he felt like she was attacking people like him.
"If they're not doing it now, they will be doing it if you continue to give them this find of power. And I was offended that you would say it's a 'false narrative' because it's not. It's not a false narrative to not trust your government and to think they are a fire burning out of control."
Watch the video below, via BlazeTV:
—–
Follow Josh Feldman on Twitter: @feldmaniac
Have a tip we should know? tips@mediaite.com
Josh Feldman - Senior Editor