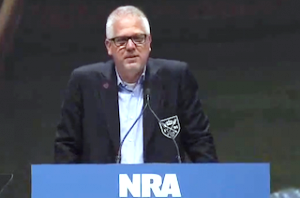 Glenn Beck delivered the keynote address at this year's NRA convention in Houston, Texas, yesterday. The radio and TV host began broadcasting live from Houston Friday, offering up his own conspiracy theory about the previous day's Houston airport suicide.
"We have to admit two things," Beck told the crowd. "That weapons will always find their way into the hands of bad people, always…but we must declare this: that guns must remain in the hands of good people."
Guns are neither good nor evil, he further noted, explaining, "A gun is only a reflection of the people that use it." Beck shared a number of anecdotes, and included a mention of Charles Manson in order to illustrate the point that taking away guns won't solve our problems.
"Charlie Manson had his gun taken away," he recalled. "Charlie Manson didn't use a gun. He killed with a knife."
This was a theme he repeatedly struck throughout the speech, emphasizing that guns save lives — while also going after politicians and celebrities, such as New York City Michael Bloomberg, who have been staunchly supportive of gun control measures.
"I will not comply!" Beck stated in the speech — during which he also used props (as was reported earlier).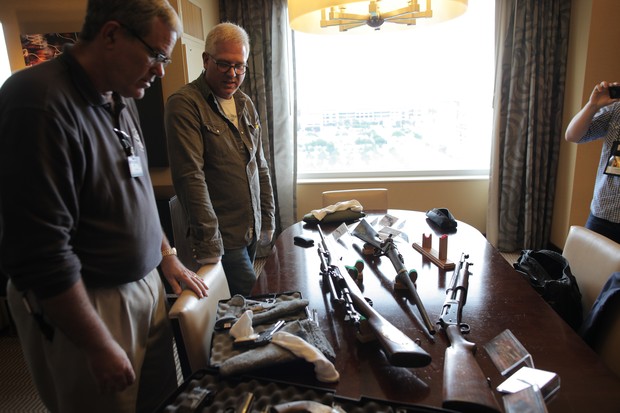 After telling a story about a police officer whose revolver was found in the rubble after 9/11, for example, Beck held up the revolver, deeming it a "silent token of liberty."
"If you want to save lives, Mr. President, fix the economy," Beck argued, elaborating on the link between the economy and gun-related deaths.
"It is not the gun or the knife, or as Cain discovered with Abel, a rock," he said, "but the cold heart filled with error, darkness and coldness. That is the problem."
Watch below:
—
>> Follow Matt Wilstein (@TheMattWilstein) on Twitter
Have a tip we should know? tips@mediaite.com