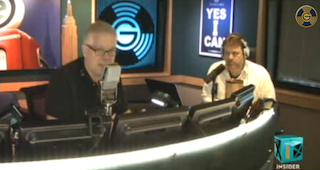 Last night, after writing up Glenn Beck's segment about Glee, I felt a little bad. Had I been too sarcastic? I feel much better today after hearing this clip from Beck's radio show this morning. Clearly he appreciates sarcasm too as he and co-hosts Stu Burguiere and Pat Gray employed it to absolutely demolish Donald Trump over his profanity-filled tirade last night in Las Vegas. Good job, guys. This was a reaaaaally terrific segment. You toooootally got him.
Oh, wait. If that read like sarcasm, it actually wasn't. They really did.
From the very beginning, as Beck called Trump "very, very presidential," you could see the sarcasm dripping out of your radio speakers. By the time Beck was calling him "regal," I can imagine some listeners on their commute probably had to pull over and get out for fear of drowning in it.
"BECK: There's the kind of presidential leadership that we've been looking for, to go to Saudi Arabia and say you're not going to raise the F'ing price of oil.

GRAY: And that would do it, too. I don't know why we haven't tried that in the first place? Why haven't we just sworn at them?

BECK: I don't know.

BURGUIERE: And strongly too. I mean, we haven't had a president who's promised to swear this much since John Kerry was running.

BECK: Well, here's the nice thing. We have so much leverage, the world needs us, we're so wealthy, we're so well respected, we have this military that, everybody knows, we can go in and get the job done quickly and that's why our troops are home resting right now."
Gosh, y'know, I don't think they actually like Trump.
Well, actually, Beck's made no secret of his feelings towards Trump, particularly on the basis of the whole Birther thing. Beck has been extremely vocal in his disapproval of all things Birther because he believes they distract from real issues and, possibly, because he's so frequently lumped in with them incorrectly.
Whatever his feelings were, this was a pretty blistering take down. And I'm not being sarcastic.
Watch video of the segment below:
Have a tip we should know? tips@mediaite.com