Glenn Beck-Endorsed Goldline Hit With Criminal Complaint; Brian Ross And GMA Told You So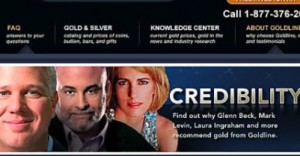 (Image credit: @rollingingraves)
Brian Ross and the entire staff of Good Morning America were dancing for joy Wednesday morning (at least on the inside), as a company they had been dogging with allegations for some time were hit with a large criminal complaint. "A year after we first raised questions about the company's sales practices here on Good Morning America," Ross said, "local officials in Los Angeles have filed a 19-count criminal complaint alleging misdemeanor fraud and theft by the company."
The company in trouble is Goldline, made famous partially by endorsements from Glenn Beck, Fred Thompson, and Mike Huckabee — none of whom are accused of any wrongdoing. The complaint says that Goldline used a "bait and switch" operation, where customers would call looking to purchase gold bullion, but instead were convinced to buy gold coins at a considerable markup by overzealous phone operators who were allegedly told to direct callers to the coins.
"There are two main types of complaints we're seeing," Adam Radinsky of the Santa Monica City Attorney's office told GMA last year. "One is that customers say that they were lied to and misled in entering into their purchases of gold coins. And the other group is saying that they received something different from what they had ordered."
According to the Santa Monica Daily Press, the complaint also alleges:
Salespeople received approximately 2,000 percent more commissions for sales of other overpriced coins than for sales of bullion, and that they were told to withhold certain pricing information from customers.

Goldline also allegedly engaged in false advertising by referring to European coins as "rare" while also stating that they could be "liquidated privately." City attorneys said Goldline also offered gold bullion for sale in commercials and on its website but had no intention of doing so.
The complaint charges theft by false pretenses, false advertising, and conspiracy. The Santa Monica Mirror adds that the company allegedly trained salespeople, "to induce in customers fear of government confiscation of bullion" and told them that the overpriced coins were exempt from such confiscation. The Mirror said that the defendants, who include former CEO Mark Albarian, current CEO Scott Carter, executives Robert Fazio and Luis Beeli, and salespeople Charles Boratgis and Stephanie Howard, could receive heavy fines and a year in jail.
Brian Crumbaker, Goldline's Executive Vice President, says the claims are "without merit" and contain "numerous errors." "Goldline has an A+ rating from the Better Business Bureau," Crumbaker said in a statement on Goldline's website, "and prides itself on having a complaint rate of less than 1/10th of 1 percent of its transactions." He adds that bullion accounts for more than 40% of the ounces of gold sold by the company during the past year.
Decide for yourself who is in the wrong here (or just wait for it all to play out — arraignment is scheduled for January 2012). And enjoy the clip below, courtesy of ABC and Good Morning America:
Have a tip we should know? tips@mediaite.com