Glenn Beck Excoriates Bachmann: 'Shame On You,' 'Really, Really, Really Almost Dead To Me'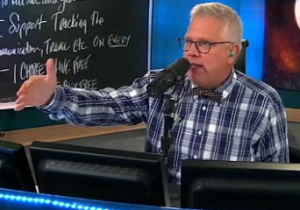 On the House floor early Wednesday evening, Michele Bachmann, John Boehner, Eric Cantor, and Paul Ryan all stood up for the Obama administration and voted with Nancy Pelosi. You may ask how such a thing is possible, but the ongoing debate over NSA surveillance has created some strange political bedfellows and even exposed cracks in some alliances. Case in point, Glenn Beck today was beyond disappointed in Bachmann, and only half-joked that she's "not dead to me, but she is in very ill health."
RELATED: Bachmann Takes Shots At Snowden During NSA Hearing: How Could A 'Traitor' Do This To The American People?
The issue Wednesday night was over a proposal from libertarian Republican Justin Amash that would have restricted the NSA's ability to collect metadata on people to only those under criminal investigation. It was only narrowly defeated, 217-205, with conservative Republicans joining liberal Democrats to vote for the amendment. Bachmann emerged as one of the more defensive Republicans of the NSA surveillance program, fighting back against "false narratives" about what information the NSA is collecting. Needless to say, Beck wasn't happy.
He said that while he feels Bachmann's comments were sincere and based on her experience in classified intelligence hearings, she's promoting a false narrative by talking about false narratives. He asked, "What are they storing in the Utah NSA data storage facility? What are they storing in there? Meat?"
While listening to Bachmann go on about terrorists benefitting from the information released by Edward Snowden, Beck took to his chalkboard to write, "Michele B- is not dead to me but she is in very ILL HEALTH."
He and his co-hosts also found it ridiculous that Bachmann would claim the phone book has more personal information than the NSA database. Upon hearing this one, Beck updated the chalkboard message to read "very very very ill health," and said that Bachmann is "really, really, really almost dead to me."
RELATED: Beck Goes Off On NSA, IRS Tactics: 'There Wouldn't Be A Jew Alive Today If Hitler Had This Technology'
He told Bachmann, "Please don't treat me like a moron." He went off on the secrecy of the NSA surveillance program and the FISA court making "Supreme Court-style decisions" in a "star chamber." He ended with a serious message for Bachmann.
"There's no freedom there and it's not a false narrative, Michele Bachmann, and shame on you for saying that. Shame on you. You know better than that. And I like you and I have respect for you, but shame on you."
Watch the video here, courtesy of BlazeTV:
And you can watch Bachmann's comments on the House floor last night here:
—–
Follow Josh Feldman on Twitter: @feldmaniac
Have a tip we should know? tips@mediaite.com
Josh Feldman - Senior Editor