Glenn Beck Getting 'Violent' Emails Because of His Plans to Aid Migrant Kids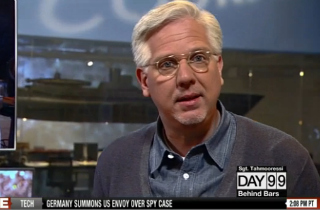 In response to his plans to bring emotional and material comfort to underage migrant children currently being held in the border town of McAllen, Texas, Glenn Beck claims he has received hateful emails threatening his life and livelihood.
As part of his plea for some compassion for the undocumented immigrant children, Beck plans to bring tractor-trailers full of food, water, teddy bears, and soccer balls to the 60,000 refugees on July 19. He will be joined by pastors, rabbis, Sen. Mike Lee (R-UT) and Rep. Louie Gohmert (R-TX).
"Through no fault of their own, they are caught in political crossfire," Beck said of the kids. "And while we continue to put pressure on Washington and change its course of lawlessness, we must also help. It is not either-or; it is both. We have to be active in the political game, and we must open our hearts."
Such an attitude towards what many of his loyal fans would describe as "illegal invaders," Beck claimed he has received a multitude of angry letters and threats.
"Everybody is telling me I'm seeing subscriptions down; I'm seeing Mercury One donations down," Beck lamented. "I'm getting violent emails from people who say I've 'betrayed the Republic.' Whatever. I've never taken a position more deadly to my career than this — and I have never, ever taken a position that is more right than this."
He concluded his emotional monologue: "When America stops being good, we are no longer able to be great."
Watch the full video below, via TheBlaze TV:
[h/t TPM]
[Image via TheBlaze/screengrab]
— —
>> Follow Andrew Kirell (@AndrewKirell) on Twitter
Have a tip we should know? tips@mediaite.com