Glenn Beck: Grover Norquist 'Responsible' for 'Muslim Brotherhood Stuff' 'in the White House'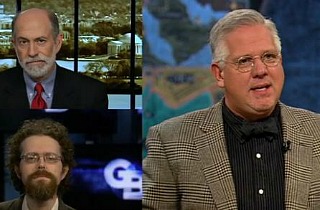 Americans for Tax Reform President Grover Norquist found himself in the crosshairs of radio host Glenn Beck on Monday. Beck took issue with Norquist going after Sen. Ted Cruz (R-TX) for instigating conservative House members to shut down the government in an effort to defund the Affordable Care Act. "[Norquist] is the guy responsible for a lot of the Muslim Brotherhood stuff that goes on in the White House, isn't he?" Beck asked his guests on Monday.


Beck said that he was warned years ago that Norquist is a "spooky guy" and too powerful to take on while the radio host was simultaneously attacking George Soros. "Things have to be done now, don't they," Beck said.
In an interview with two guests on Monday, Beck asked if Norquist – whose wife is a Palestinian Muslim – is "responsible for a lot of the Muslim Brotherhood stuff that goes on in the White House."
"Glenn, I think most people who know Grover only as a prominent anti-tax guy in the conservative movement would find that statement unbelievable," said Center for Security Policy President Frank Gaffney, "but for the fact that I saw it first-hand."
"I saw terrorists in his office space. I had colleagues come to me and say, 'You know there's a Muslim Brotherhood front operating out of his office suite?'" Gaffney recalled. He specifically said that American Muslim Council founder Abdul Rahman al-Amoudi, an activist now in prison for his role in an effort to assassinate Saudi Crown Prince Abdullah, as one of those people who frequented Norquist's office.
Beck charged that Norquist has blocked the deportation of illegal alien terrorists, has advocated for defense cuts in a time of war, "espouses open borders" and "promotes gay marriage."
Beck asked if Norquist was a libertarian or if he was "playing for the progressive side." Gaffney said that progressives are not "hostile" to America, but implied that Norquist may be.
"This is a guy who is doing the bidding of," Gaffney said, "and certainly helping people who are enemies of this country."
Beck closed by noting that this was a "complex issue," but that it was time for "someone to take on the establishment Republicans and tell you exactly who's who."
Watch the clip below via The Blaze:
h/t The Blaze
[Photo via screen grab ]
— —
> >Follow Noah Rothman (@NoahCRothman) on Twitter
Have a tip we should know? tips@mediaite.com