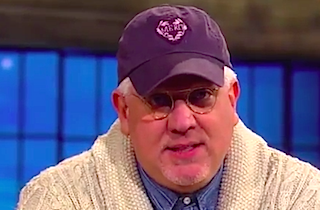 On Monday, Glenn Beck once again warned that World War III is upon us. But in addition to his dire predictions that America's "arrogance" will "be our undoing" Beck also shared some thoughts about what the country's most popular cable drama series says about our collective psyche.
"I want to give you a theory that I thought of while I was watching The Walking Dead," Beck told his viewers. "I'm watching this and I can't figure out why — other than it's a really good show — I can't figure out at first why this is a 22 million people a week watching it."
The host described those numbers are unprecedented going back to the beginning of television, which is not exactly true, given that NBC's Friends, for instance, averaged more than 20 million viewers a week for each of its 10 seasons from 1994-2003. In its later seasons, Seinfeld averaged more than 30 million. But by today's standards, The Walking Dead is immensely popular.
"I think that we all know that the world is about to come undone," Beck suggested. "We all know, there is something in us that tells us the world is out of control, but I don't want to watch that," he added, saying he doesn't even want to watch the news most nights.
"And so why are we watching The Walking Dead?" he asked. "We're watching The Walking Dead because we know the zombies aren't real. And so it allows us to connect with what we're really feeling, but allows us to be in a safe zone because we know zombies aren't real. Zombies are ISIS. Zombies is our economic peril. The rest of the show is what we say is coming."
Either that, or as Beck admits, "It's a really good show."
Watch video below, via TheBlaze:
[h/t RWW]
[Photo via screengrab]
— —
>> Follow Matt Wilstein (@TheMattWilstein) on Twitter
Have a tip we should know? tips@mediaite.com