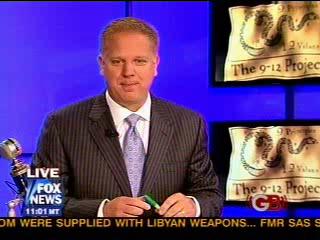 "I launched a project back in March and it comes together Saturday, 9/12," says Glenn Beck in a Foxnews.com promo video. "Thousands of people are going to gather in Washington, D.C., and around the nation, to stand up for the principles and values that have made America great."
Where was Beck today? In his New York City Studio – but he wasn't happy about it.
After all the promotion of this Beck-driven event, on Fox News, on Beck's personal website and on the 9/12 project website, it was jarring to see the Fox News host conducting his program like any other usual 5pmET weekday show. Here's how Beck explained it:
Well hello America, I have to tell you I'm not in a very good mood today because I would much rather be, can you show the pictures of Washington, I would much rather be in Washington DC today…I'm not in a good mood because I would rather be there quite honestly, and standing in the crowd with people.
Well if he would rather be standing in the crowd, with the people, why wasn't he? This project is something he admits to launching himself, and now we've reached the much-talked about date. The two-hour special featured a look at various tea party protests around the country, but the focus was D.C. Instead of Beck on the ground, it was FNC reporter and ambusher Griff Jenkins, making sure to ask at every possible opportunity for members of the crowd to talk to Beck. Wouldn't it have been more effective if Beck were actually there? And further, despite saying he'd "rather" be in D.C. he gives no reason for why he didn't actually go. FNC tells Mediaite the plan was always for Beck to anchor from the studio.
Beck described the crowd as a "collection of Americans who want both parties to stop with the corruption stop with the spending and start listening to the people." It's not a stretch to say Beck is the leader of this group. But by having him stuck in the New York City studio, it comes across like the general who isn't willing to hit the frontlines with his troops. Instead, he's the distant coach – calling the plays in the huddle and letting the players run around and attempt to execute the gameplan.
Beck has an enormous platform in Fox News, and an ever-expanding audience. No one can argue that he's at the top of his game right now. And he certainly has his critics – many with legitimate concerns. But he's here to stay – or until he self-destructs. His strong ties to the grassroots tea party movement will surely boost his appeal with those disenchanted with the government. But couldn't he have attended his own party?
On a side note, here was the other reason Beck wasn't in a good mood:
And then the other thing is I spent it about an hour in traffic, this is how out of control our government is. Here in New York, they had a Labor Day parade today. The week after Labor Day. Nobody stood and watched it. It was labor unions, just walking down the street, and so they closed the traffic here in New York.
With one project down, it's time for a new project. Here's Beck explaining his newest feature, finding 56 "re-founders" in D.C. to "help us get the disease out of there":


—–
» Follow Steve Krakauer on Twitter
Have a tip we should know? tips@mediaite.com