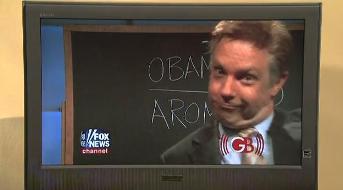 "I want to get the health care message to as wide an audience as possible," says Fred Armisen as Pres. Barack Obama. "I don't want to shut anyone out." "How about Fox News?" asked his aide. "Nope."
This is the way last night's Saturday Night Live Weekend Update Thursday began – in a sketch that saw the debut of "Glenn Beck."
The sketch parodied Pres. Obama's media push last Sunday, and in these series of interviews he opened the floor to even more obscure cable network choices. There was Stuart Scott from ESPN, Kathy Griffin from Bravo and more. It was a clear shot at both the President's media affinity and his aversion to Fox News.
When Obama's aide suggests FNC again, the Pres. turns it on to see Glenn Beck. "If I write down the name Obama we can rearrange the letters and spell Aroma'," says Jason Sudeikis as Beck. "And I don't like what I'm smelling."
As we speculated about, the Beck parody even take until the premiere (this Saturday) to make its debut. The 30 second appearance didn't allow the show to delve too far into what makes the media star tick, but it sounds like we'll be getting more in the future. Head writer Seth Meyers tweeted after the show: "Favorite thing about tonight's show: Jason Sudeikis introducing his outstanding Glenn Beck."
And for what it's worth, Beck himself approved (via Twitter last night, and likely his FNC show today): "The hair, chin and chalkboard. FUNNY."
The sketch ended with the NBC comedy show turning its jabs inward at their news division. Armisen as Obama mentioned Brian Williams, in a way sure to appeal to his detractors: "Give that guy one day of access and now he acts like we went to camp together." And Bill Hader's Keith Morrison impression was the best of the night. The big takeaway? It's almost Saturday night, finally.
Here's the cold open, and first segment:

Have a tip we should know? tips@mediaite.com