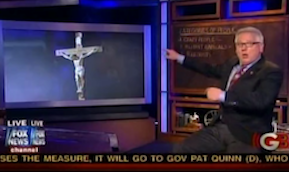 Well, we all knew it would happen. Once a bunch of people get shot, it's only a matter of minutes before The Left jump to their feet and run to their Nanny-Mobiles to take away our guns. That's not it, however. This time, they also want to ban threatening "language or symbols!" Glenn Beck thinks that's just a fine idea, and to help out, he's going to list some of the most dangerous symbols out there so we can get straight to the bannin'. We can start with the most violent image around: the Crucifixion.
Yes, Beck was in fine form today. In his epic monologue, he ran down a hilarious list of symbols that the Dems should look out for. Cupid's arrow? Banned. Cupcake War's cupcake tank? Banned. Target's, uh, target? Banned.
And he used every trick as his disposal too. He didn't just show clips from Minority Report. Oh, no, he had someone on his staff build a contraption to mimic to weird ball tubes from the movie. He didn't just do a jokey rant about the "cult" Christianity and their bloody altar. Nope, he walked up to the camera and pulled the studio lights into his face so as to appear as "conspiratorial" as possible. This was clearly Beck at his best.
After he was done with all the symbol talk, he moved to take on hypocrisy because, as we all know, hypocrisy is bad. He took shots at President Obama and The New York Times for not urging prudence and caution when the shooting on Saturday was blamed on the Tea Party even though they had when it turned out that the Fort Hood killer may be Muslim. Beck made some good points.
In fact, this was such a good monologue that, to paraphrase Beck's frequent request, I'd suggest people DVR it and show it to their friends. And then, next time a Congressman wants to ban a violent video game or Bill O'Reilly's Culture Warriors think a music video is just too darn sexy, people can show them this clip and be reminded, via Beck, that banning images is bad. And it is. And so is hypocrisy.
Have a tip we should know? tips@mediaite.com