Glenn Beck: My Viewers Aren't "Dummies", They Wont Be That Surprised By New WikiLeak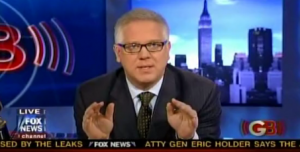 Glenn Beck began his show today by reminding viewers that he's "never treated [us] like a moron." The topic of the opening monologue was, ostensibly, the latest WikiLeaks release but it was all filtered (at least in the beginning, before the chalk board section which Beck promises wasn't, I repeat, WASN'T about connecting WikiLeaks to George Soros…except for the brief part that was) through a prism that I've been most fascinated with while watching these past few months. I have never before seen a show or host so adept at making a viewer feel good for watching. Of course, I don't watch Oprah, so you can take that with a grain of salt.
Through tonight's opening few minutes, Beck employed all of his best techniques in audience congratulation. He complimented them for getting what so few do. He reminded them of their importance in saving the republic. And through it all, he constantly pressed them, as always, to "do [our] own homework," that simple mantra that reminds us that, really, this is about us and not him. That idea was accented when he ran down the info in the leak and pointed out that much of it had been discussed on his program. A less clever host would have turned this into a self-aggrandizing "I told ya so" moment, but Beck brilliantly turns it. He's not interested in the fact that his show had these stories first. He's interested that his audience knew the stories first from watching the show. It's no wonder that Beck fans are devoted.
"If you've done what I've asked you to do, protect your integrity, do not take my word- never trust me on anything! I don't ask for your trust. I give you information and I tell you you can find all of this information from reliable sources. Go to the library. Look it up. You ask your friends, if you've protected your integrity and only told the truth, how many times do you have to be right, how many times does this show have to be right, before Americans start listening to this show and, more importantly, their gut?"
After the monologue and the first commercial break. Beck invited the audience to join him for something "like a town hall." It was his upcoming Fathom Events show. Why wouldn't audiences want to spend more time with a man who thinks so highly of them?
Check out the clip of the opening from Fox News below:
Have a tip we should know? tips@mediaite.com