Glenn Beck Offers Post-Election Prognosis On O'Reilly: Everything Will Work Out But 'A Lot Of Pain' Coming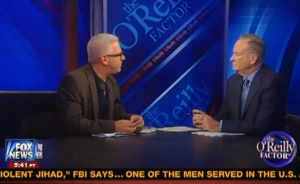 Glenn Beck paid a visit to his old stomping grounds on Tuesday night, talking to Bill O'Reilly about the election. Beck recalled his prediction that Mitt Romney would win and offered an explanation of why he ended up being wrong. Part of the problem, he said, is disillusioned voters.
"What happened there that you weren't anticipating?" O'Reilly asked.
"I anticipated actually people coming out, you know," Beck replied. "We actually went down in some numbers."
When O'Reilly noted that the turnout was more than enough for Romney to win, Beck offered his take on the problem. "The parties have gotten to the place to where I don't think anybody believes either side," he said. "They just don't see a difference." People, even in his own family, Beck added, don't believe one side will be better for the country than the other.
But that simply isn't true, he said, noting that the 2012 election was "most stark choice" the country's had. O'Reilly agreed.
He then asked Beck about the conservatives, including Beck himself, who predicted a Romney victory — noting their surprise when Romney actually lost. Beck said he'd gone to bed feeling confident the night before, telling his wife he couldn't wait for Romney to win so "we can relax a little bit and our life will settle down."
Asked if he sees the outcome as "a divine providence situation," Beck said everything will work out. The pair agreed: It's all going to work out, but there's "a lot of pain" coming.
Watch below, via Fox News:

Have a tip we should know? tips@mediaite.com