Glenn Beck On Current TV Offer: It's A 'Badge Of Honor' That Al Gore Finds Me More 'Loathsome' Than Al Jazeera
Glenn Beck: 'Badge Of Honor' That Gore Finds Me More 'Loathsome' Than Al Jazeera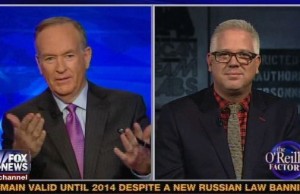 Glenn Beck stopped by Fox News tonight to chat with Bill O'Reilly about the expansion of his media empire and his recent public embrace of libertarianism (libertarian reactions have been mixed about this). Beck said the increasing lack of differences between the Democrats and Republicans are why he and his audience embrace libertarian values. When asked about his failed attempt to buy Current TV, Beck considered it a "badge of honor" that Al Gore considers him more "loathsome" than Al Jazeera.
RELATED: Glenn Beck Tried To Buy Current TV, Claims He Was Rejected For Ideological Reasons
Beck quickly responded to the media reports that he is "rebranding" his media empire, saying that he is part of a "growing segment" of libertarians in the country who are turned off to the two major parties because of how little difference they see between them. Beck declined to speak on behalf of all libertarians, but took some time to mock the idea that there is serious discussion of a trillion-dollar coin, which Beck said "shows you how far from reality they really are."
O'Reilly moved on to Beck's attempt to purchase Current TV, asking Beck if he was being serious about his offer. Beck said he decided to go for it, and called Current to make them an offer, but once they found out it was Beck himself making the offer, he was informed that Gore did not want to be associated with Beck and would "never" want to tarnish his legacy by selling his network to Beck.
Beck and O'Reilly found this particularly laughable, considering Gore's sale of the network to Al Jazeera. Beck took it as a "badge of honor" that he is more "loathsome" to Gore than Al Jazeera. O'Reilly asked Beck if this meant Gore thinks of him as "more of a threat to the world" than the Qatar-based news network.
Beck agreed, called Gore a "fraud," and said that Gore has far more in common with Al Jazeera than himself, bringing up accusations that Al Jazeera hid important information about Osama bin Laden from the U.S. government.
Watch the video below, courtesy of Fox News:
—–
Follow Josh Feldman on Twitter: @feldmaniac
Have a tip we should know? tips@mediaite.com
Josh Feldman - Senior Editor