Glenn Beck On Libya: Allies 'Will Pay In Our Own Countries' For Supporting Rebels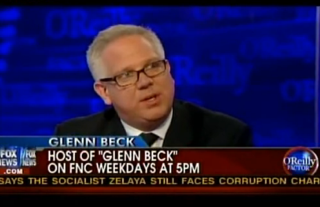 Glenn Beck may not be a big fan of Muammar Gaddafi, but he's not ready to see America take him on to defend a lesser evil. This he adamantly concluded on The O'Reilly Factor last night, where he questioned the wisdom of entering the Libyan conflict and predicted the entire ordeal will "not end well." Host Bill O'Reilly begged to differ, calling the decision to send troops "an easy one," but Beck still seemed skeptical that supporting revolution was a good thing.
"This is going to end badly," Beck asserted as he and O'Reilly discussed the Libyan situation. Suggesting that American troops could have entered the fray sooner, Beck argued that promoting revolution in any context was bad for America, and that the nation's reputation would be helped little by opening yet another front in the Middle East. He also tossed in the fact that Der Spiegel recently published photos of American soldiers appearing to torture and maim civilians, a point O'Reilly contested as proof Beck was once again "going all over the map."
O'Reilly took a more neo-conservative approach on the Libyan conflict: "if I'm faced with mass murder, I stop it," he noted, arguing that this case "was an easy one" and that "it's going to enhance the United States' reputation as an exceptional nation." Beck remained unconvinced, and wondered why, if America decides to enter Libya, we leave Syria in the margins. "No, there is not an emergency in Syria," O'Reilly responded– at least not to the extent there was in Libya.
Beck also took some time to re-explain his "flash mobs of goodness" campaign, an idea, he noted, that meant to extend the goodness of humanity seen from the help given to the victims of the Japan earthquake.
The segment via Fox News below:

Have a tip we should know? tips@mediaite.com