Glenn Beck On Tea Party Recapturing Its 'Mojo': GOP 'Will Become Less And Less Relevant' Every Day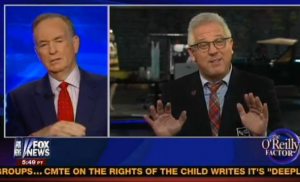 Glenn Beck paid a visit to Bill O'Reilly on Monday night to talk about whether we'll see a Tea Party resurgence — and to chime in on the Republican establishment. Noting those Republicans he likes (and those he doesn't), he chided the "establishment" for "betraying" their values.
Beck is "done" with with the "big government" Republicans, he said. "The Republicans have betrayed their own values for so long." Whereas those like Beck are just trying to push "common sense."
There are a few Republicans he does like, though, including Sen. Rand Paul (R-KY). Asked about Sen. Marco Rubio (R-FL), Beck said he hasn't quite made up his mind. And straight-talking New Jersey Gov. Chris Christie? Beck used to like him, but now, not so much.
But back to the Tea Party, O'Reilly questioned whether it can "recapture its mojo knowing that the press hates it?" What the press thinks doesn't matter, Beck replied. Anyone who stands up for small government, he added, can have success (though some of those pesky, "strange" libertarians are a different story).
"I am sure that the Republicans will become less and less relevant as every day that goes by," Beck asserted. "They're becoming — if they're not already — the Whig Party."
If the economy is bad, O'Reilly argued, they could have a viable 2016 candidate. Beck wasn't convinced, going after Republicans who have felt the need to become more moderate. Cutting spending is moderate!
O'Reilly noted it's about leadership — and segued into discussing the Department of Agriculture "hiring a guy from Massachusetts to be politically correct" (referring to "diversity awareness trainer" Samuel Betances).
With that, Beck was off: "This government, under Barack Obama, is hiring people to teach people how to be racist."
It's a coordinated effort, he said, to teach government workers to be racist.
The video below, via Fox News:

Have a tip we should know? tips@mediaite.com