Beck Ridicules Andrea Mitchell For Romney WaWa Edit With A Pipe, Smoking Jacket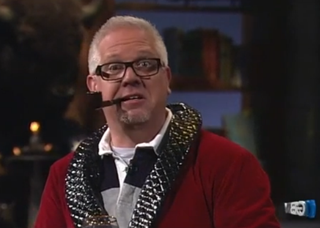 Glenn Beck is going back to his roots. Bringing back the "elitist" pipe and smoking jacket act he used to mock Joe Klein back in 2010 to ridicule Andrea Mitchell, "Mrs. Alan Greenspan," for her selective editing of a clip of Mitt Romney discussing a WaWa food ordering touchscreen.

RELATED: MSNBC's Andrea Mitchell Doesn't Apologize For Romney Wawa Editing
On his GBTV program yesterday, Beck mocked Mitchell and other "elitists in the media" for "ignor[ing] their own obnoxious wealth" in mocking Romney. "Let's have a good chortle at that insolent Mitt Romney… I bet he even owns more than one ascot!" Beck joked, before turning the the clip in question and asking whether Mitchell, who he referred to as "Mrs. Alan Greenspan," had any more knowledge about WaWa than Romney did. He also argued that tape "was wildly edited to change the context and fit a preexisting narrative" in a way "just like what NBC did with George Zimmerman and the 911 tapes."
RELATED: MSNBC's Andrea Mitchell Keeps WaWa-Gate Story Alive By Pretending It Doesn't Exist
Beck then turned to other "hypocrites" in the media, people like David Letterman and Jon Stewart, who "needs an army of people to write his twenty minutes of comedy," for being rich enough to be far from able to mock Romney. "We need to stop having a problem with the rich and start directing that anger to the hypocrites," Beck concluded.
The segment via GBTV below:

—–
»
Follow Frances Martel on Twitter
Have a tip we should know? tips@mediaite.com