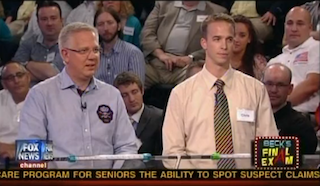 A month or so ago, when ads for a Glenn Beck quiz show special first started airing during the commercial breaks of regular Glenn Beck episodes, I'm only a little bit embarrassed to admit how much excitement there was around the official Mediaite compound. Then we learned Greg Gutfeld would be co-hosting and we got even more excited. There were friendly wagers and Gchat quiz sessions all around. So, I'm not exaggerating when I say that there was quite a bit of disappointment when today's special episode was just kind of…awkward and blah.
Perhaps it's just that I'm a bit of a trivia snob (full disclosure: this writer spent a season working on an actual game show once), but the whole thing seemed to suffer from a lack of closure. Every segment shifted between competitions between a couple of audience members and competitions between the entire audience as a whole which was ostensibly split into teams. An intern was shown taking score but any attempt at having actual rules was thrown out the window pretty quickly while Gutfeld tried to keep people focused while tossing in jokes about urination fetishes that didn't work too well in the 5pm hour. It all felt like one of those parties where everyone's excited to play some kind of game but, midway through, people get bored and start having their own conversations instead.
One of the most awkward segments featured Beck going head to head with an audience member. Should've been fun, right? Instead, neither of them knew any of the answers and were soon forced to cheat the whole time. Pretty, pretty uncomfortable.
It wasn't a horrible hour of television, but it wasn't the thrilling send off to Beck's Fox News show that we may have been hoping for.
Watch the clip from Fox News below:
Have a tip we should know? tips@mediaite.com