Glenn Beck Stands by Lone Survivor Story, Calls Jake Tapper's Question 'Stupid'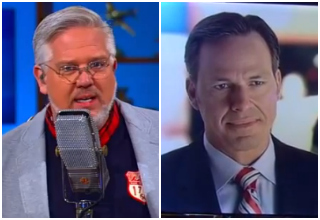 The fallout from Jake Tapper's uncomfortable Friday afternoon interview with former Navy SEAL Marcus Luttrell, who wrote the book
upon which the new film Lone Survivor is based, continued into early Saturday morning, when the CNN host challenged Glenn Beck's TheBlaze on what he saw as a mischaracterization of the interaction. Today, Beck responded to Tapper on his radio show, sticking by the story in question and calling Tapper's line of questioning "stupid."
"The last thing you say to the 'lone survivor' is, 'You know what? It's kind of like all those deaths were senseless,'" Beck said of Tapper's remarks. "'Excuse me? You're telling me my service, what I did was senseless?'" he asked, taking on the role of Luttrell. "I don't think so."
During the pre-taped interview, Tapper told Luttrell, "Just the sense of all these wonderful people who died, it seemed senseless. I don't mean to disrespect in any way, but it seemed senseless — all of these wonderful people who were killed for an op that went wrong." The former SEAL took what appeared to be great offense to these statements, accusing Tapper of suggesting his friends "died for nothing."
Beck was willing to give Tapper the "benefit of the doubt" on the motive behind his question, but maintained that it was a "stupid thing to say." The host also defended his own writer Oliver Darcy's description of the episode that appeared on TheBlaze Friday and drew accusations of inaccuracy from Tapper. "We did not retract the story because we believe we got the story right," Beck said.
At the same time, Beck and his co-hosts praised Tapper, along with ABC's Jonathan Karl and Fox's Ed Henry, for being a generally unbiased reporter. Similarly, in December, Beck singled out Tapper's work as "fantastic and fair."
In his original post, Darcy echoed Luttrell by asserting that Tapper "suggested in an interview that the 'lone survivor's' fellow veterans died for nothing." Tapper has maintained that he never made that particular suggestion.
Following Tapper's back and forth with Darcy, and then Beck, on Twitter early Saturday morning, a wide range of pundits came to Tapper's defense, including conservatives like Erick Erickson and Hugh Hewitt. The Daily Caller published a column urging its conservative readership not to listen to Beck's "ridiculous" scolding.
For his part, Tapper has dedicated much of his career as a reporter to covering U.S. troops and veterans, traveling to Iraq and spending two years writing his book, The Outpost: An Untold Story of American Valor
, about one of the deadliest battles of the war in Afghanistan.
Watch video below, via TheBlaze:
[photo via screengrab]
— —
>> Follow Matt Wilstein (@TheMattWilstein) on Twitter
Have a tip we should know? tips@mediaite.com