Glenn Beck Storms Seattle: Meets Hundreds Of Protesters, But Thousands Of Fans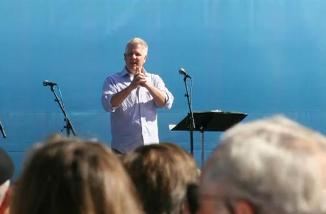 Glenn Beck went out West this weekend to receive the key to his hometown, Mount Vernon, Washington and speak at an event in Safeco Field.
So how did it go? Pretty much like all things Beck these days – it went really well for the Fox News host.
The Seattle event saw more than 7,000 people come out to hear Beck speak. There's video up on YouTube (and some embedded below). Here's a taste.
What is this government trying to do? They're trying to take your necessity away. They've got a whole lot of invention coming our way, I promise you that. Don't let anyone take our necessity away, or anybody take that failure away from us, because…failure is what builds you.
As for the non-Beck fans – the Seattle Times put the number at "about 30". Or, put another way, irrelevant.
For Beck's key event in Mount Vernon, he displayed his trademark self-deprecating humor. "Now, I would give my right arm to live in a town like Mount Vernon. And I discovered today that there are a ton of people ready to cut it off," he said. "It doesn't bother me, because I have the key to their house now."
This is where Beck was met with more protests – the AP puts it at "close to 800." But still, he received the key in a sold-out ceremony. Yesterday morning, Beck tweeted, "Expecting buses of Protesters at Safeco Field & l8r in Hometown. Organized by Dems!? y?How abt joining us & b4 accountability?" Apparently the buses only made it to his hometown.
The entire weekend will go down as a small victory in the continued evolution of Glenn Beck, media superstar. And now he has the key to your house.
Here's the opening of Beck's Seattle speech:


Someone set some pics of the protesters to music. We'll give equal time in embedding, even if they weren't equal in numbers:


—–
» Follow Steve Krakauer on Twitter
Have a tip we should know? tips@mediaite.com