Glenn Beck Teases Whistleblower Revelation That Will 'Take Down' GOP, Democrats, 'Whole Power Structure'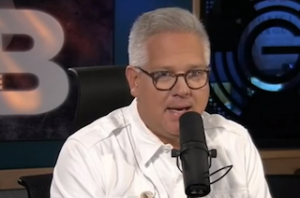 Either Glenn Beck is getting a little jealous of Glenn Greenwald, or he really does have something huge on his hands. On his radio show today, Beck claimed that his staff at TheBlaze has been in touch with a "whistleblower" who could single-handedly "take down pretty much the whole power structure" of the United States.
"This country I believe is going to be rocked within the next 24 hours," Beck began, "with some things that are going on in Washington and beyond." He said that within the next day, he will be sharing revelations with his audience that will "greatly divide" the nation. "You are going to witness things in American history that have never been witnessed before," Beck warned.
Describing the "whistleblower" who apparently came forward to Beck and TheBlaze, he said, "this guy is so afraid for his life" that he has said he will only tell his story on live television in front of Congress. Beck stated that the one document from the source that his team has seen would take down pretty much the whole power structure, pretty much everything." He added, "It will take down the GOP, it will take down the Democrats, it will take down many members of Congress… the American people, you haven't even begun to be outraged."
Of course, the last time Beck promised a revelation that would change the course of history, it concerns the mysterious Saudi Arabian man who was questioned and released after the Boston Marathon bombings. That theory has apparently since taken a back seat to more pressing matters. If Beck does manage to "take down" the entire U.S. power structure tomorrow, we will be sure to let you know.
Watch video below:
(h/t Right Wing Watch)
—
>> Follow Matt Wilstein (@TheMattWilstein) on Twitter
Have a tip we should know? tips@mediaite.com