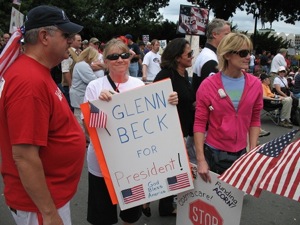 Last Friday, Glenn Beck held another one of the in-studio audience shows that he has becoming increasingly attached to, this time with the theme "Ask Glenn Anything." It functioned as a sort of town hall where audience members and online viewers pitched Beck questions on anything from his policy positions to what he thinks is the least understood thing about him. But Beck seemed particularly excited to answer one question: "Are you running for president?"
Beck denied any desire to becoming a public official—especially the most powerful one in the world— and noted that, after having lost everything in life, he is not willing to "lose his soul," something he sees as impossible to keep in Washington. But he issued one very important caveat: "When we restore these things, I'd be happy to serve," pointing to a series of posters behind him with the words "faith," "hope," and "charity" written on them.
Could it be that The Plan—which Beck is planning on revealing this summer—is to spend the next year restoring those things in Washington, only to make a triumphant homecoming in 2012? While it is highly unlikely that Beck would abandon his extremely comfortable position as commentator and media icon, he might just be dipping his feet in the political pool just to make sure it's as cold as he thinks it is. And he's probably right that he won't take the plunge, but what if he finds a more positive reception to his career change than he anticipates? It's certainly a possibility that the position will tempt him; it's only a matter of whether he takes the bait.
Watch the segment below, complete with a cranky cameo appearance by Bill O'Reilly:

Have a tip we should know? tips@mediaite.com