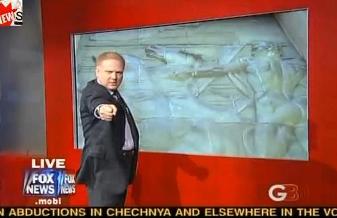 Leave it to master entertainer Glenn Beck to find the most creative way yet to attack Fox nemesis NBC.
After MSNBC's Keith Olbermann turned his attention to the FNC host (and away from his usual target, Bill O'Reilly) earlier this week, Beck responded, in a way, last night – based around art history.
At the beginning of the segment/performance, Beck says he'll address the "propaganda that you see maybe every day, at least here in New York, and they have no idea what they're looking at."
Here's a taste of Beck's art history lesson:
This is the strong leader, taking that, using that industry and those machines to lead us into the bright future, led by our children. Gee, who's having indoctrination next week? Oh yeah that's right, the President. Completely unrelated. This represents, at the time it was made, Mussolini. This was Mussolini.
There's a lot of this. But there's something else Beck does – plant the seeds and let others tend to the tangled mess. "You need to see the things that are hidden in plain sight," he says toward the end of the segment. "Progressives, fascists, communists, now what do they have in common today? That's something you're going to have to figure out."
'Now, I'm not saying NBC is a Commie network, but…well you're just going to have to figure it out.'
Beck has jumped head-on into the truce-less FOX/GE debate, as O'Reilly has pulled back a bit. And with Beck's ability to perform and craft stories each day, expect more creative ways of continuing the feud. We'll be watching.
Here's his art history class:


—–
» Follow Steve Krakauer on Twitter
Have a tip we should know? tips@mediaite.com