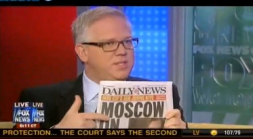 Have you been following the Russian spy story? Earlier today the FBI arrested a large Russian spy ring that they had apparently been following for more than a decade, fearing that one of its members was about to leave the country. According to the New York Times a "Russian official assigned to the United Nations" delivered cash to others in the ring…
[W]ho were accused of spending years living undercover in American cities and suburbs, posing as ordinary couples working ordinary jobs, chatting to the neighbors about schools and apologizing for noisy teenagers. Their purpose, according to prosecutors, was to patiently penetrate what one coded message called American "policy making circles."
Actually it sounds like the premise for a Chevy Chase movie. And the rest of the article does nothing to dispel this conclusion ("They couldn't have been spies," Jessie Gugig, 15, said jokingly. "Look what she did with the hydrangeas."). Be that as is it may, Glenn Beck told Fox and Friends this morning that he believes the decade old Russian spy ring is evidence of something deeper and more sinister, namely, the country is on its last legs.
This is the small story. I'm telling you, I've heard from the Special Forces…those people who we send in when a regime is about to topple and help push it, they're here….We have operatives from all over the world, because we're easy game. We're weak.
Also, apparently in need of nice hydrangeas. Watch below.
Have a tip we should know? [email protected]