Beck To O'Reilly: Obama's 'War On Faith' Is To Spark 'Confrontation' On The Streets
Beck To O'Reilly: Obama's 'War On Faith' Is To Spark 'Confrontation'...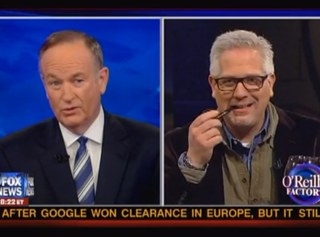 Glenn Beck isn't one to make the same mistake twice, and when Bill O'Reilly told him to clean himself up to be on his show, he took it seriously, donning a velvet sport jacket and bringing out a wine glass and the 2010 Joe Klein era pipe for tonight's show. The topic tonight was President Obama's birth control mandate, which Beck insisted was a sign that the President "is interested in radical transformation."
RELATED: Activists Call For Glenn Beck To Be Put Back On Fox News
If anyone was wondering whether Texas and not being on Fox News had changed Beck somewhat, this appearance made it clear that it has not one bit. Trying to look sophisticated with a wine glass full of soda, he reminded O'Reilly that "you made fun of me the last time" for looking "like a bum," so he put on his best sport jacket for the occasion. He then got to the heart of the matter at hand, which he defined as "a war going on, not just on faith, but on conscience– it's on what we believe." "Why should the Catholic Church have to pay for someone's abortion pills?" he asked, adding that he believed the left was "giving you their faith and forcing you to acquiesce."
O'Reilly saw the problem but did not see it as so radical a situation, as Beck later described it as the President's quest for "radical transformation." He did agree with Beck that, politically, the move made "no sense on any level." Beck added that it was not only problematic for many voters, but hit him particularly in the Latin American demographic. "Why would he do it? Because he wants people on the streets, he wants confrontation."
"Nah, I'm not buying it," O'Reilly countered, concluding with agreement on the what but not the why of the birth control mandate.
The segment via Fox News below:

Have a tip we should know? tips@mediaite.com