Glenn Beck Tried To Buy Current TV, Claims He Was Rejected For Ideological Reasons
Beck Tried To Buy Current TV, Claims He Was Rejected For Ideological Reasons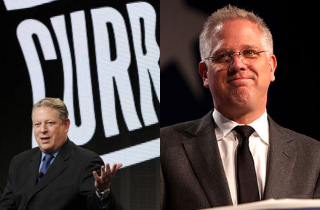 Conservative talker and TheBlaze founder Glenn Beck apparently tried to buy Current TV from former Vice President Al Gore, but was reportedly rejected due for ideological reasons.
Al Jazeera bought the progressive cable network and plans to "dissolve" the current programming in the future as the network enters the American market. But the Wall Street Journal reported yesterday that Beck also sought to purchase the struggling progressive channel:
[Co-founder Joel] Hyatt said they agreed to sell to Al Jazeera in part because "Al Jazeera was founded with the same goals we had for Current," including "to give voice to those whose voices are not typically heard" and "to speak truth to power." Other suitors who didn't share Current's ideology were rebuffed. Glenn Beck's The Blaze approached Current about buying the channel last year, but was told that "the legacy of who the network goes to is important to us and we are sensitive to networks not aligned with our point of view," according to a person familiar with the negotiations.
On his radio show Wednesday afternoon, Beck divulged more of the backstory:
When we found out that Current TV was going to go up for sale, it was rumored to be, what, $250 million is what they were asking, and I don't have $250 million lying around, but we wanted access to 60 million households and so we discussed it and we thought we can somehow or another find $250 million, $300 million. Somehow or another we might be able to do it.

[…] So we call up, and I don't even know who we talked to but, you know, it was the person handling the negotiations. And our person says, "We would like to talk to you about buying Current." Great, great, fantastic. So who is Mercury exactly? "Umm… but let's talk about, so how much are you…" "Excuse me. Who is Mercury exactly?" "It's a wholly owned subsidiary of Glenn Beck." "Excuse me?" "It's Glenn Beck's company." "It's Glenn Beck's company?" Silence. "That one is going to probably have to go to the vice president. Al Gore's probably going to have to answer that one. I don't… we'll call and we'll get an answer and then we'll call you back." No kidding, within 15 minutes, we get a call back. "Yeah, umm‑umm, no, not even interested. We ‑‑ our legacy is too important and there would quite frankly be too many people, too many friends that the vice president would have to explain why he's selling to Glenn Beck."

… Not surprised. Not a shock that, I mean, I wouldn't sell to Al Gore. I'm not going to sell to Al Gore.
Beck went on to claim that he had a higher bid than Al Jazeera's but because of his conservative political background, he was rejected. "He didn't sell to the highest bidder," the host said. "We were not allowed to the table. He didn't sell to the highest bidder. He looked for, who do I ideologically align with."
Al Jazeera has long been the subject of Beck's derision, as he believes it is an "anti-American" network. And so, Beck and his co-host Stu Burguiere mocked the former Vice President for believing Al Jazeera to be more closely aligned with his ideology than an American television company.
Ultimately, Beck concluded, the rejection comes as a "badge of honor."
Watch Beck address the story on his radio show below, via BlazeTV:
— —
>> Follow Andrew Kirell (@AndrewKirell) on Twitter
Have a tip we should know? tips@mediaite.com