Beck Unplugs Red Phone: "I Will No Longer Wait For Leaders", "I Will Lead Myself"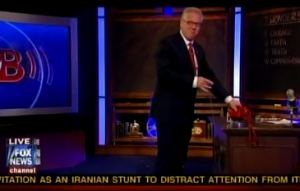 Glenn Beck's been away from the cameras for a few weeks but, today on his show, he came barreling back full speed ahead. Describing the country as being "at a crossroads," Beck said his show was at one too and gave hints of big changes to come. The first change, and the one most physically tangible, was his unplugging of the red phone he had reserved for calls from the White House. For, you see, Beck's no longer waiting for change or fighting to stop change. No, he's going to make the change he wants happen himself.
For the most part of his stirring opening monologue of the new year, Beck adhered to the message he sent out to fans earlier this morning. That meant employing the Alexis de Tocqueville quote "America is great because America is good," once again calling out Eric Holder's "cowards on race" comment, and calling upon the memory of the Alamo. It also meant making these comments that are sure to send shudders of passion and terror through the spines of Beck devotees and critics respectively:
"I will no longer look to others for leadership or answers. We're out of time. I will lead, me and my family. And I will teach my family and myself to be independent, honorable, educated, self-reliant, and charitable. And with firm reliance on the protection of Divine Providence, I choose to re-found this amazing nation by rediscovering it within myself and sharing it within the circle of my own influence, the principles and ethics that defined American exceptionalism."
Finally, and perhaps most importantly, Beck presented his latest guideline and system for his viewers to follow. This time, it's called "The E4 Solution" (Four E's, Seven Wonders…how do Beck fans keep up with all this?) and it will be the focus of all of Beck's media output over the next year.
What are the Four E's? Well, they're "Enlightenment, Education, Empowerment and Entrepreneurship," the ways in which Beck and "family" will change themselves so as to change the country and bring about the "Fundamental Transformation" that Beck says is "required."
Basically, this was everything you'd want in a Glenn Beck return. There was heroic and inspiring talk for the Restoring Honor crowd and pseudo-cult leader talk for the Restoring Sanity crowd. Beck may be talking up change and changing his set or wardrobe (no more phone, no more founders, AND talk of losing the suit and tie?!), but it's clear he's not changing one thing: this is still wildly entertaining TV.
Have a tip we should know? tips@mediaite.com