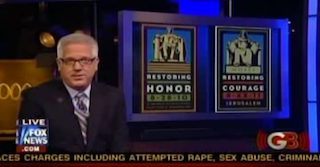 This morning we got the surprising announcement that Glenn Beck would be following up last year's rally in Washington, D.C. with another one all the way in Israel. And, despite a brief cold open relating to the debt ceiling, Beck spent his entire show today discussing the event. There were quotes from the Old Testament, comparisons of Israel's current troubles to the Nazis, and even an extended interview with Nir Barkat, the Mayor of Jerusalem, himself. And, unsurprisingly, for you old school Beck fans out there, there was a moment when the host's voice cracked as he explained the grave importance of what he intended to do.
Beck explained that, when he held the Restoring Honor rally last year, it was originally intended as a "last hurrah." He also told his audience members that there was a time when he would've turned his back on the Middle East, telling them to figure things out themselves. However, he spoke directly to the Christian viewers and promised them that, were Israel to be split into two states, the Arabs would never again allow them to visit their religious landmarks.
It's interesting. Last year, everyone expected Beck to give a political rally and was surprised when it was 100% based in religious faith. Now, by setting this rally in Israel and becoming demonstrably anti-Palestine, Beck positioned himself smack-dab in the middle of the two subjects.
He finally began to break as he quoted from the Book of Ruth, comparing Ruth's refusal to leave her mother-in-law to his refusal to turn away from Israel.
"That is what needs to be said to Israel and to the world and to God. What God commands to be said through his prophets of old. This August, I will stand where he has always been; in the ancient walls of the city of Jerusalem. I ask you tonight to spread the word and put the call out to the entire world to stand. It will be expensive to get there. It might be dangerous and, in all honesty, it may just be you and me and like four other people. I don't know. But, I ask you, has there ever been a time in the history of man, in a relative period of peace and calm, before the storm really got under way, has there ever been a call to return to his city, a call to stand and to be counted?"
Beck asked his viewers to search within themselves and their spouses to decide whether they would like to attend since it is "better to know now." Unfortunately, he has not been able to set an exact date in August yet so no one can purchase their plane tickets just this morning. However, maybe everyone will get lucky and there will be a Groupon discount sometime in the coming months.
Watch the clip from Fox News below:
Have a tip we should know? tips@mediaite.com