Glenn Beck Warns Safety Plug Invention Will Help Government Consolidate Power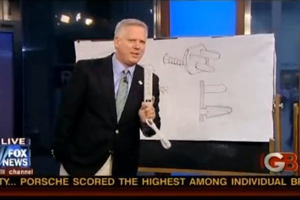 Glenn Beck's self-imposed hiatus from major politico-industrial socialist conspiracies for the past couple of weeks to promote some books and bash Woodrow Wilson is over. On today's program, Beck found a nefarious plot by the brains at Fannie Mae to fully control personal use of energy through a brand new patented safety plug.
The strange invention– illustrated across one of Beck's chalkboards– is a product that would give the government power to turn off energy in individual homes. As described by Republican Rep. Jason Chaffetz, the product's intention to is protect from unexpected energy surges by household appliances: "literally it locks down the energy in your home and the concern that some of us have is that they're pursuing Cap and Trade," such that the government can tell you when you've had too much energy. Moreover, it protects from individuals who would use outlets in one's home without authorization, and prevents them from spending energy on one's dime. Even if this were the case, why would this project be under the jurisdiction of Fannie Mae, a mortgage company?
Beck was as confused as anyone following the story, brandishing a surge protector and explaining the dangers of unauthorized electricity users: "Some unauthorized guy came in and just started plugging in washer and dryers all over the house and blew up my computer!" If Beck was trying to make Fannie Mae's explanation seem unreasonable, he wins this round.
But there still wasn't a clear explanation as to why Fannie Mae is involved at all. Beck explained that the reason a floundering mortgage company was investing in electricity patents was "about the government gaining more control and more power through– because it's war– Cap and Trade." The "it's war" theme continued throughout the show as Beck explained how the federal government was using the war excuse to consolidate power. It didn't get much easier to follow from there.
Video from this evening's program below:

Have a tip we should know? tips@mediaite.com