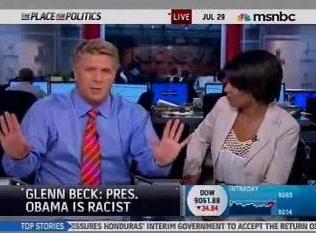 If it's attention Glenn Beck wanted – he got it.
MSNBC just finished segment #6 (via TV Eyes) focusing on Glenn Beck's comments yesterday during Fox & Friends, in which he said President Barack Obama has "a deep-seeded hatred for white people" and "this guy is, I believe, a racist." With a hand-off non-response by FNC management, MSNBC, the NAACP and more have gone on the offensive.
In much the same way the network spent significant time discussing Rush Limbaugh and his comments, Beck has been mentioned throughout the day today on MSNBC.
It began with a lengthy discussion on Morning Joe.
The show's regular host, Joe Scarborough, was out today, but weighed in on Twitter. "Conservatives attacked the Dixie Chicks for saying much less about President Bush than what Beck said about President Obama," he wrote.
Guest Jonathan Capehart said he was "highly annoyed." Co-host Mika Brzezinski says it was "outrageous" and "irresponsible." Mike Barnicle said Beck "is just show business."
Donny Deutsch, filling in again at 3pmET, called for the advertisers on Beck's FNC show to pull out of the program. "I like Fox News it's not about them, it's about Glenn Beck," said Deutsch before listing his sponsors. "If you're an African American, or a white American, that's tired of this kind of talk, write to the CEOs of those companies and say you know what, put it somewhere else on Fox News…take it off this man's show. That's the only way this ends."
Beck's comments have touched a nerve (calling the commander-in-chief a "racist" will do that) and the lack of any sort of apology, or even a clarification, is stunning. And it means this story is not going away.
Here's one of the segments from MSNBC today:
—–
» Follow Steve Krakauer on Twitter
Have a tip we should know? tips@mediaite.com