Glenn Greenwald and Partner Speak Out: 'Journalism is Not a Crime and It's Not Terrorism'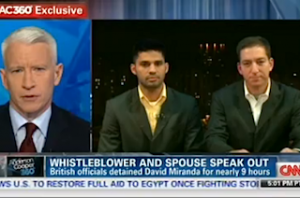 The Guardian's Glenn Greenwald and his partner David Miranda gave their first major interview to CNN's Anderson Cooper Tuesday night since Miranda was detained by British authorities at Heathrow Airport over the weekend under the Terrorism Act. Miranda described how "afraid" he was during his 9 hour detention and Greenwald said he believes the British government will "come to regret what they have done."
Miranda began by simply retelling the story of how he was detained when he got off his plane from Germany before he was scheduled to continue to his home on Brazil. He said that the officials told him he had to answer all of their questions or he could "go to jail." Despite being told he was being held under the Terrorism Act, Miranda said he was asked no questions about terrorism specifically. He said he knew he could be in a dangerous situation because the U.S. and UK "have all the powers in the world to do anything they want" to suspected terrorists. "I was really afraid of what would happened to me," Miranda said.
Greenwald told Cooper it was "terrorizing" to get a call from a British official and hear that "the person you love most in the world and with whom you share your life" was being held under the Terrorism Act.
Miranda had gone to Germany to pick up files from Greenwald's investigative partner Laura Poitras and bring them back to their home in Brazil. Materials he was carrying, including a laptop and other drives, were confiscated from him, but he claimed not to know if they contained classified materials.
"Every single newsroom in the United State, every single major news organization in the world, has classified information," Greenwald said, defending his right to keep the documents Miranda was carrying secret. "Reporting on what governments do in the secret is what journalism is about. So if you support the idea that states can just go and confiscate from journalists classified information, you should be demanding the government can go into newsrooms and seize whatever classified information is there." He added that if you want to "criminalize" journalism, then you're "asking as a citizen to be kept ignorant and to allow people in power hide what they're doing behind a wall of secrecy, to have no accountability or transparency. Journalism is not a crime and it's not terrorism."
Considering that any information Miranda was carrying was likely backed-up elsewhere, Cooper proposed that the British government's only reason for confiscating it was to "intimidate you and send a message to others."
Greenwald confirmed that not only did the information exist elsewhere, but it was encrypted. "It's not going to stop our reporting, it doesn't do them any good. All it did, as I said this week, is give them a huge black eye in the world and make them look thuggish… I truly believe they will come to regret what they have done. Aside from being oppressive and dangerous, it's also quite incompetent and really quite dumb."
Watch video below, via CNN:
Part 1:
Part 2:
[photo via screengrab]
—
>> Follow Matt Wilstein (@TheMattWilstein) on Twitter
Have a tip we should know? tips@mediaite.com