Greenwald and Ruth Marcus in Explosive Exchange over Snowden and 'Horrible' D.C. Media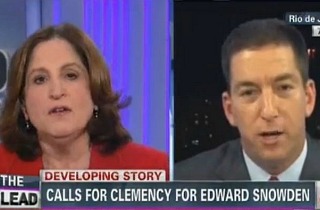 On Thursday, CNN host Jake Tapper dug into the dueling editorials in American newspapers tackling the problem of NSA leaker Edward Snowden and whether to punish him as a criminal or offer him the protections afforded a whistleblower. Washington Post columnist Ruth Marcus and The Guardian reporter Glenn Greenwald engaged in a brutal, heated debate over what to do about Snowden and the media culture in Washington D.C.

Marcus began the debate by disagreeing with the New York Times editorial board, which called for the White House to offer Snowden clemency. She said Snowden should have faced justice in the United States rather than flee to Hong Kong and later Russia.
RELATED: Greenwald Snarks at MSNBC: I Defend Snowden Like You Defend Obama '24 Hours a Day'
"I think Ruth Marcus' argument exemplifies everything that's really horrible about the D.C. media," Greenwald shot back. "People in Washington continuously make excuses for those in power when they break the law."
Marcus countered a claim by Greenwald, who asked why Director of National Intelligence James Clapper should not be held to account for lying to Congress about the scope of the NSA programs, by saying that she believed he should be held accountable for his actions.
The pair exploded when Greenwald demanded that Marcus answer whether Clapper should be prosecuted. Greenwald called Marcus a "loyalist" of President Barack Obama's administration and asked again why American officials who lied about the NSA program should not face prosecution.
"People in Washington who are well-connected to the government, like she is, do not believe that the law applies to them," Greenwald insisted. He later added that the Obama administration has been more aggressive with whistleblowers than previous administrations.
"I think there has been an excessive use of the whistleblower – an excess use of power against whistleblowers," Marcus agreed. She noted sarcastically that, because she sees the world in "grey terms," this makes her a "complete tool of the establishment."
However, Marcus added that she has tried to take into account many of Snowden's leaks which have been a public service, but she asserted that many of his leaks do harm national security interests. She further asserted that Snowden's attitude is "insufferable" and "reprehensible."
"You do not need to be collecting, Jake, billions of calls and emails – billions every day – as the NSA does," Greenwald asserted.
Marcus closed by correcting Greenwald for "conflating" all of Snowden's disclosures with the efficacy of the NSA's domestic information gathering programs.
Watch the clip below via CNN:
[Photo via screen grab ]
— —
> >Follow Noah Rothman (@NoahCRothman) on Twitter
Have a tip we should know? tips@mediaite.com