Glenn Greenwald Explodes At 'Servants To Power' In Media: They're 'Defending The Royal Court'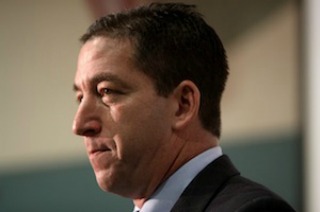 The Guardian's Glenn Greenwald expanded his feud with Meet the Press host David Gregory to include CNBC analyst Andrew Ross Sorkin in an interview with The Washington Post's Erik Wemple on Monday. In that interview, Greenwald lashed out at the NBC News personalities for suggesting he should be imprisoned for his work with National Security Agency leaker Edward Snowden. Greenwald attacked much of the political media which he said has evolved into "servants to power" rather than watchdogs.

"[I]t is true that The Guardian generally, and me in particular, are outsiders, not members of the Beltway establishment media clique," Greenwald told Wemple.
Greenwald attacked Sorkin in particular who, on Monday, said that he would "almost arrest" The Guardian reporter for appearing to want to facilitate Snowden's request for political asylum.
RELATED: Greenwald Tears Into Gregory: With Newsmen Like You, 'Who Needs Government To Criminalize Reporting?
"I've purposely made myself an outsider by very aggressively and harshly criticizing not just the culture itself but the most prominent members of it, including David Gregory and Andrew Ross Sorkin, who this morning suggested on CNBC that I be arrested," Greenwald said.
He said that members of the media who are attacking him are exhibiting "personal bitterness" and "resentment" over his ability to reject and breach conventions that maintain the working relationship between the press and the political establishment.
[M]ost of it is what I have long criticized them for most: they are far more servants to political power than adversarial watchdogs over it, and what provokes their rage most is not corruption on the part of those in power (they don't care about that) but rather those who expose that corruption, especially when the ones bringing transparency are outside of, even hostile to, their incestuous media circles.
"They're just courtiers doing what courtiers have always done: defending the royal court and attacking anyone who challenges or dissents from it," Greenwald concluded. "That's how they maintain their status and access within it. That's what courtiers to power, by definition, do."
On Sunday, Greenwald and Gregory engaged in a heated interview where Greenwald was asked if he should be subject to arrest for having helped National Security Agency leaker Edward Snowden reveal that agency's intelligence gathering practices.
"Who needs the government to try to criminalize journalism when you have David Gregory do it," Greenwald tweeted.
Gregory fired back at Greenwald, saying that he should understand that the role of journalists reporting on sensitive information relating to national security is relevant to the Snowden story. "What is journalist, and what is appropriate, is actually part of this debate," Gregory said.
Read the full interview via The Washington Post
> >Follow Noah Rothman (@NoahCRothman) on Twitter
Have a tip we should know? tips@mediaite.com