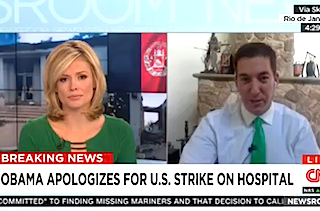 Two days after Glenn Greenwald went after CNN for "obscuring" the facts on the U.S. airstrike that killed 22 people at a Doctors Without Borders hospital in Afghanistan, he appeared on the same network to criticize President Barack Obama for delivering what he believes to be an insufficient apology to the organization.
"Doctors Without Borders, the organization that has run this hospital for five years, has made very clear that they're not most interested in hearing apologies or claims of mistake or collateral damage," Greenwald said. "They want only one thing, and that is an independent, impartial investigation to find out what really happened here, who made the decision to bomb this hospital and what it is that they knew. And unfortunately the U.S. government, even through today as President Obama is apologizing, has made clear that they will refuse to cooperate with that kind of investigation because they say they're investigating themselves."
Watch video below, via CNN:
"It is just shocking that the U.S. government is standing before the world and saying, we have been accused of committing war crimes by this organization that won the Nobel Peace Prize in 1999, Doctors Without Borders, and we will refuse to allow anybody other than ourselves to investigate ourselves," Greenwald added later. "That is completely lacking in all credibility, and if people really think that the United States committed an innocent error, that we had really good intentions in our heart as always and we would never do such a thing, why won't they allow what Doctors Without Borders called for this morning?"
Earlier today, Doctors Without Borders president, Dr. Joanne Liu, delivered a speech from the Palais des Nations in Geneva, Switzerland in which she said:
Today we announce that we are seeking an investigation into the Kunduz attack by the International Humanitarian Fact-Finding Commission. This Commission was established in the Additional Protocols of the Geneva Conventions and is the only permanent body set up specifically to investigate violations of international humanitarian law. We ask signatory States to activate the Commission to establish the truth and to reassert the protected status of hospitals in conflict.
The organization has also launched a campaign to "demand an independent investigation" on its website, urging people to use social media to spread that message as widely as possible.
"There's so much evidence that this wasn't a mistake, and unfortunately the United States has actually been accused and lots of people have found it guilty over the past 20 to 30 years of committing war crimes but because it's the most powerful country in the world we're very good at telling other countries to hold their war criminals accountable but very good at exempting ourselves," Greenwald said at the end of his CNN interview. "The question is whether that's something we want to continue to tolerate, that our own government is singularly exempt and permitted to commit war crimes."
[Photo via screengrab]
— —
>> Follow Matt Wilstein (@TheMattWilstein) on Twitter
Have a tip we should know? [email protected]