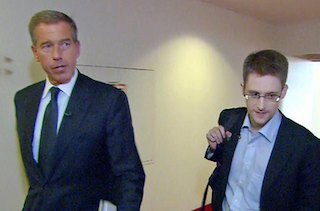 Tonight at 10 p.m. ET, NBC News will air an hour-long, exclusive interview with Edward Snowden, making Brian Williams the first American journalist to score an in-person sit down with the former NSA contractor. The interview was a big get for Williams and presumably Snowden and his media liaison Glenn Greenwald had their pick of just about any news anchor when they decided to grant it.
There's nothing too surprising about the choice of Williams on the surface. After all, he does consistently draw the largest number of total viewers for any network evening newscast. But a Salon column from just over two years ago shows that Greenwald did not always think so highly of the NBC anchor.
In a post titled "NBC News' top hagiographer," Greenwald tore into Brian Williams for a special he hosted to mark the one-year anniversary of the raid that killed Osama bin Laden. After laying out the various complexities and lingering questions surrounding the killing of America's number one enemy, Greenwald wrote:
None of those questions was even acknowledged, let alone meaningfully addressed, by last night's one-hour melodramatic extravaganza hosted by NBC News anchor Brian Williams. This bin Laden show — "Inside the Situation Room" — was hagiography in its purest, most propagandistic, and most subservient form. This is typically the role Williams plays — he cleanses and glorifies American government actions, especially military actions, with his reverent, soothing, self-important baritone — but he really outdid himself here.
He went on to marvel as Williams' "child-like excitement" over the special access he got to the Situation Room. "Do people like Williams, or Peter Bergen and David Ignatius, ever wonder why they are chosen to receive such official honors and how that reflects on whether they engage in actual adversarial journalism," Greenwald asked, "or do they just avoid looking these royal court gift horses in the mouth?"
"There was no dissent, no critical scrutiny of claims, no raising of difficult questions, no facts revealed," Greenwald lamented. "It was all reverent praise and uncritical amplification of official government claims. In sum, it was consummate American establishment journalism."
RELATED: Brian Williams: Edward Snowden Is 'Blindingly Smart'
Has Greenwald's opinion of Williams changed since then? Or was he simply able to put aside his general disdain for the anchor in order to get Snowden's story out there (and promote his new book
in the process)?
Judging by the excerpts of the interview that have aired thus far, Williams has mostly let Snowden express himself without challenging him too much, but that could of course change in the sections that NBC is saving for the main broadcast tonight.
In addition to his lengthy conversation with Snowden, Williams also interviewed Greenwald for the special. We will have to wait and see whether or not any lingering awkwardness exists between the two men.
Watch a clip from the 2012 special that so offended Greenwald below, via NBC News:
Visit NBCNews.com for breaking news, world news, and news about the economy
[Photo via screengrab]
— —
>> Follow Matt Wilstein (@TheMattWilstein) on Twitter
Have a tip we should know? tips@mediaite.com