Glenn Greenwald To Anderson Cooper: Peter King And Others Targeting Me For 'The Crime Of Doing Journalism'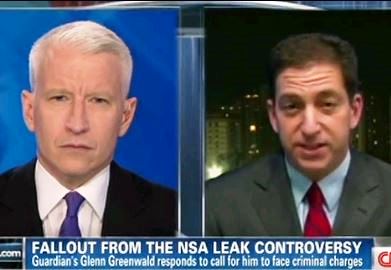 Guardian journalist Glenn Greenwald broke the NSA surveillance scandal wide open, and at least one member of Congress wants him arrested for it. Congressman Peter King has been very clear that he wants Greenwald prosecuted for the information he's revealed and for threatening to reveal the identities of CIA agents. However, Greenwald has said no such thing, and responded on CNN tonight, telling Anderson Cooper that King is targeting him for "the crime of doing journalism."
Greenwald admitted he was "really staggered" that a member of Congress, let alone the chairman of the House Homeland Security Committee, would "fabricate" this information calling for Greenwald to be arrested and tried for "the crime of doing journalism." Cooper noted that King's office declined to comment, and asked if any of Greenwald's future revelations will reveal the identities of anyone in the field. Greenwald insisted it will not, and defended Edward Snowden as, contrary to popular belief, actually taking national security into account in deciding to reveal the classified information.
RELATED: Glenn Greenwald Fires Back At Rep. Peter King: Won't 'Deter Me, Limit Me Or Constrain Me In Any Way'
Cooper asked whether King is making it up or just mistaken, but Greenwald said he didn't want to think about what's going on in "the swamp of Peter King's brain." He mentioned how King has actually supported terrorist activity by the Irish Republican Army.
Cooper noted how while everyone accused WikiLeaks of damaging national security and putting people at risk, U.S. officials admitted that they couldn't name anyone who died as a result of the info that WikiLeaks released. Greenwald argued that every time people release secret government information, the government responds by scaring people into blindly trusting whoever's in charge to protect them, but ultimately journalists should be calling them out and demanding to know "what specifically has jeopardized national security" as
Watch the video below, courtesy of CNN:
—–
Follow Josh Feldman on Twitter: @feldmaniac
Have a tip we should know? tips@mediaite.com
Josh Feldman - Senior Editor