Glenn Greenwald To Jake Tapper: Leaks Have Damaged Reputations Of Politicians, Not National Security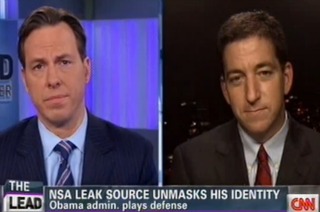 In the wake of the shocking stories detailing the scope of the National Security Agency's warehousing of American communications data, The Guardian reporter Glenn Greenwald sat down with CNN host Jake Tapper on Monday where he teased the fact that his publication will be breaking more stories this week. Greenwald challenged those who defend the NSA's actions to show how his work has threatened national security. He noted that potential terrorists already suspect that their communications are being monitored while average Americans, until recently, did not.

Greenwald insisted that the Director of National Intelligence, James Clapper, was being untruthful when testified before Congress that the federal government is not "wittingly" collecting information on millions of Americans.
Greenwald noted that the NSA has also avoided Congressional oversight by insisting that they were incapable of providing information to legislators which, he says, his sources were able to specify with "great mathematical exactitude" what communications they are intercepting and storing.
RELATED: Explosive: Glenn Greenwald Reveals To Jake Tapper How Democrats In Revolt Against NSA Spying
"It seems like this agency, which has no accountability and Obama has been boasting now is subject to congressional oversight, has been misleading the Congress in serious ways about what it is that they do and what it is that they can say they do," Greenwald asserted.
Asked to respond to Clapper's contention that these leaks have put American citizens at risk, Greenwald brushed off that notion. He pleaded with the public to "be rational" and not accept that claim at face value.
"I defy anybody, Jake, to go and look at what it is that we published over the last week and describe how any of that could have harmed national security," Greenwald said.
Terrorists already know that the U.S. government tries to serveil their communications. Nothing that we revealed helps, quote unquote, the terrorists. All we did was tell our fellow citizens of the United States and around the world the extent and capabilities of how vast the surveillance state is, and the reasons why it needs scrutiny and accountability.
"The only things we've damaged is the reputations of American political officials and not national security," Greenwald concluded.
Watch the clip below via CNN:
> >Follow Noah Rothman (@NoahCRothman) on Twitter
Have a tip we should know? tips@mediaite.com