Gloria Allred Agrees Rodger Was Victim of 'Mental Illness' of Male Chauvinism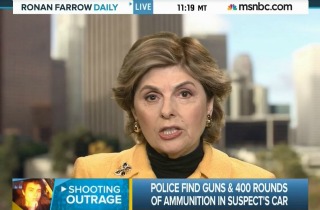 In the wake of the murder of six people allegedly by the deranged Elliot Rodger over the weekend, an odd condition has begun to overtake the popular culture. That condition is now jumping hosts and is making the rapid evolutionary leap from the darkest fringes of hashtag activist networks, to print, and finally to cable news.
The jealous and chauvinistic Rodgers wrote in his marathon, rambling manifesto that he was moved to kill his six victims, two of whom were women, because he felt rejected by the many women he had approached over the years. Oddly, some feminist activists are adopting Rodger's own rationale for mass murder and have begun to label even the killer a victim of sorts.
In The Washington Post on Monday, columnist Ann Hornaday blamed misogynistic culture in television and movies (specifically, Judd Apatow comedies) for setting Rodger on a murderous path. The famous feminist attorney Gloria Allred echoed this theme on Tuesday in an appearance on MSNBC. She agreed that male chauvinism is clinically defined "mental illness," and that those who suffer from it are themselves victims as much as are those upon whom they inflict abuse.
"Male chauvinism has been demonstrated, has been set by the American Psychiatric Association to be a certifiable mental illness," she said. "And it is dangerous to women's health."
RELATED: WaPo Columnist: The Real Culprit in Santa Barbara Shooting Is… Judd Apatow?
She added that the "illness" of chauvinism also claimed the lives of the four men that Rodgers killed, making it a less discriminatory disease. When prompted, Allred added that she agreed with Hornaday that much of American culture, including harmless Seth Rogen movies, is "woman hating."
It's probable that Rodger suffered from mental disease. Psychiatric professionals have suggested that the killer may have stuggled with personality disorders or psychiatric illness.
Those like Allred should be careful, however, to not absolve killers like Rodger for his actions by crafting a victimhood status for them. Erecting too many social ills around Rodgers may generate lawsuits, and clients for attorneys like Allred, but they also diminish Rodgers' responsibility for his own actions.
Many troubled and confused young people would welcome the positive attention associated with being a dubbed a victim. Creating victims out of mass killers could be a dangerous thing indeed.
Watch the clip below via MSNBC:
[Image via screengrab]
— —
>> Follow Noah Rothman (@NoahCRothman) on Twitter
Have a tip we should know? [email protected]