Gloria Cain Stands By Her Husband, Tells Greta He Is Too 'Old School' To Disrespect Women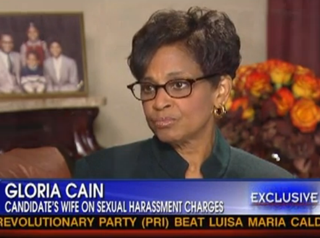 Gloria Cain is standing by her husband. The wife of presidential contender Herman Cain's long-waited interview with Greta Van Susteren aired tonight, and explained the way she heard of every individual allegation, and her firm belief that her husband's conscience would not let him keep something like those allegations from her.
"I think I was in shock because I didn't see it coming," Cain told Van Susteren about the allegations. After a while, she decided "not to watch any more news, and I could tell my spirit started to lift." Despite that, however, Gloria Cain and her children had to face the scrutiny of her neighbors, which she found particularly difficult. What those "throwing mud" on her husband didn't realize, she explained, was that she and her children and everyone who knows him had to live with the repercussions of her actions.
RELATED: Whoopi Goldberg Can't Get Over 'How Much Herman Cain Looks Like His Wife'
As for the allegations themselves, Cain said she didn't believe a word. "The person they're talking about, I don't know who that is, and if I haven't seen parts of that person in 43 years, I don't think I'm that simple that I would miss something that significant." She did say that the initial story about a settlement "rang a bell," and that she did think her husband said something, but benign. "If a person is so hurt of traumatized because of something that happened to you, why would you wait 15 years to say something about it?" But she was much more understanding of that situation than of the allegations made by Sharon Bialek. "Now that one I totally don't believe," she told Van Susteren. She described Herman Cain as "so old school… and old school people think they're supposed to be women protectors."
Van Susteren then asked whether it was possible she was missing out on some aspect of her husband's life, that wives can often be lied to. "No, because his conscience would bother him and he couldn't look me straight in the eye," she noted. While she was aware that "the women at home is the last to know," she noted that she would "never see myself as the little woman at home… I will not be one of those people who will stand up on stage with a smile, knowing that you were wrong. I'm not going to do that."
RELATED: Gloria Cain Shoots Down Allegations To Greta Van Susteren: '[Herman] Would Have To Have A Split Personality'
She added also that the Cains, like all couples, had their problems– "when people say they've been happily married for 43 years I say, 'that's not true!'" But, she added, they had indeed loved each other for that long, and that those around him loved him, too, and understood he was incapable of such disrespect.
The first part of Van Susteren's interview with Gloria Cain via Fox News below:

Have a tip we should know? tips@mediaite.com